By Chathuri Dissanayake

The Criminal Investigations Department (CID) last night arrested Litro Gas Chairman N.M.S. Moonesinghe in connection with the Taiwan bank heist case currently under investigation.

One suspect who attempted to withdraw money from a Bank of Ceylon account was remanded until Wednesday following his arrest last Friday.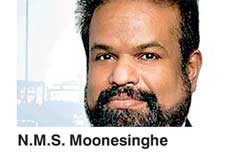 "The Chairman was arrested and will be produced before courts (today)," DIG of the CID B.R.S.R. Nagahamulla told Daily FT.

The Police have found links between the suspect already in custody and the chairman of the State-owned entity.



However, he was absconding after the first suspect was arrested on Friday, Police confirmed.

The Ministry of Public Enterprises Development, under which State-owned Litro Gas is managed, will take action regarding the discredited Chairman once details regarding his involvement are verified.

"We will take the highest necessary action against him once we verify the details. We have to first verify the information," Ministry Secretary Ravidra Hewavitharana told Daily FT.

The matter has been brought to the notice of the subject Minister Kabir Hashim and a decision will be announced, he said.

The CID is currently carrying out investigations on Sri Lankan links to hacking into the IT system of the Far Eastern Bank of Taiwan last week, triggering transactions worth $ 60 million. This is the second time Sri Lankan links have been established in an international bank hacking case. Last year a case of hacking involving the Bangladesh Central Bank saw money transferred into a bank account in Sri Lanka held by the Shanika Foundation.

Meanwhile, the Taiwanese Criminal Investigation Bureau (CIB) yesterday announced moves to visit Sri Lanka to continue with the investigations, Taiwanese-based media reported.

However, the visit may take longer to be realised as the two countries do not maintain diplomatic ties. According to Taiwanese media, the CIB has said that it will need time to prepare for the probe in Sri Lanka as the two countries have no diplomatic ties and no Taiwanese official representatives are stationed here.

Local media reports from Taiwan also said that after receiving reports from Far Eastern Bank, the country's investigation bureau has pinned down some servers located in the US and the Netherlands that were used by the hackers to wire funds from the bank to accounts outside of the country.

According to Taiwan's financial regulator the Financial Supervisory Commission (FSC), a major portion of the lost funds have been recovered except for $ 500,000.