Insists high time SL considers management as absolutely vital top level input for future economic growth

Asserts Govt. must learn to perform and shouldn't waste time on 'silly sideshows'

Questions on how well governments have managed and utilised funds for betterment of future generation

Says people are entitled to reward and kick out governments based on performance

Highlights problem not about ownership but management in mega development projects

Affirms keeping enterprises just above water level not good enough, must aim high, maximise on strengths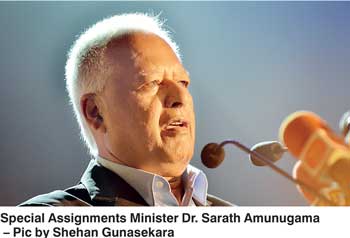 By Charumini de Silva

In a thought-provoking speech, a veteran minister pointed out it was high time that Sri Lanka began to think of management as an absolutely vital top level input for the future economic growth, insisting Sri Lankan politics seemed to be facing a management problem these days.

"Governments must learn to perform. They have no time to waste on other 'silly sideshows'. I firmly believe that we must have a middle class, like you, that makes its ideas well known and won't stand for any nonsense," Special Assignments Minister Dr. Sarath Amunugama said at the first-ever CMI Management Excellence Awards Night held on Thursday (29).Noting that Sri Lanka had been investing a large amount of money from its own domestic resources and by ways of loans and grants from overseas, he questioned how well these funds have been managed and utilised for the betterment of the future generation of this country.

"With all that money we have been playing around with for the past 20 to 30 years, can any of us here say that we have made absolute use of those investments? This is the time that we must think sincerely and think fast as to how we can develop our management and take it away from these cobwebs which prevent us from developing hard-core good management," he added.

Dr. Amunugama said the Government was also concerned about the delays in projects taking off and they were now looking inwards to see how fast they could be implemented.

"Almost every day there are people coming to us and saying 'we have this idea, this project, this money and we want to get this off the ground, but why this delay?' These are matters that we should address immediately," he stressed.

He pointed out that as a democratic country, the people are entitled to reward governments for good work and to kick out governments for bad performance, which is a part of democracy.

Pointing out that the august gathering representing the middle-class belonged to the 1% of the global population that led an affluent life compared to the rest of the people in the world, he said they therefore had a responsibility to speak out and join in the decision-making process.

"The middle-class especially have a right to say 'we have contributed so much to this country, listen to our voice and create a society where management, initiative, enterprise and global standards are sought, achieved and made safe for our coming generations,'" Dr. Amunugama emphasised. With regard to some mega development projects in the country, he noted that the problem was not about ownership but management.

"We have always been debating ownership. But if you look at the mega development projects and major enterprises, the problem is not ownership but management. Today the lines between single ownership, cooperative ownership, share ownership and all those various forms make it quite clear that you can have a multitude of forms of ownership, but what is most significant is how that enterprise is managed and how to get the best results," he added.

He asserted that in this highly-competitive environment of operating businesses, keeping enterprises just above the water level was not good enough in today's context.

Citing his memories of listening to two Sri Lankan business tycoons, Mahesh Amalean and Dhammika Perera, he insisted there was a lot to learn from them on managing enterprises. "The first thing they said at these public meetings was that they always aim at the highest level. Today corporate management cannot only look inwardly, they have to look at global competition."

Referring to the presentations made, Dr. Amunugama said that Sri Lanka was also moving ahead.

"On Wednesday (28) Bank of China commenced operations in Sri Lanka; it is the fourth largest bank in the world in terms of assets. The Colombo Port City venture is another mega project in Asia. Our Hambantota, Colombo and Trincomalee Port projects are massive and so are our new LNG plants. These are all global level enterprises that are rolling out," he added.

Noting that the Government was in the process of integrating with mega concepts, he said the Chinese Belt and Road Initiative (BRI) would be a game-changer, where the entire global network will be linked by seaways, airways and highways, together creating a new world.