Sri Lankan-born Galleon hedge fund founder Raj Rajaratnam, who was serving an 11-year prison term for insider trading, has been released more than six weeks ago, almost two years early, Bloomberg reported.

Raj Rajaratnam, alleged of being the mastermind of the largest hedge-fund insider-trading rings in US history, has been living with his family in Manhattan's East Side since 23 July, according to the Federal Bureau of Prisons.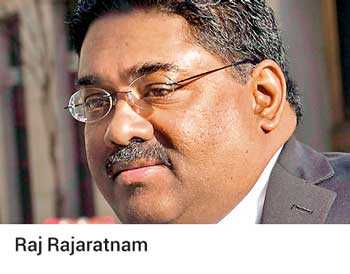 He is mostly confined to his apartment for the remainder of his sentence, but is free to work outside his home during the day.

Rajaratnam, who managed the $ 7 billion Galleon Group hedge fund, was found guilty on 14 counts of security fraud and conspiracy in May 2011. In addition to the 11-year jail term, he was fined $ 10 million and ordered to forfeit $ 53.8 million.

After his 2011 conviction, he served his time at the Federal Medical Center Devens, a prison outside Boston.

Rajaratnam, 62, was released approximately two to three years early due to the 2018 First Step Act, which allows some federal inmates who are over 60-years-old, or who face terminal illnesses, to serve the end of their sentences at home. He will serve the remainder of his prison sentence at home, with some privileges to work outside of the household.

Rajaratnam is a Sri Lankan Tamil immigrated to the US in 1981. He was an old boy of S. Thomas' College in Mount Lavinia. He founded the Galleon hedge fund group in 1997.

His Galleon Fund was one of Sri Lanka's largest foreign investment funds and had large stakes in blue-chip companies. He was the single largest shareholder of conglomerate John Keells Holdings with 52.4 million shares.