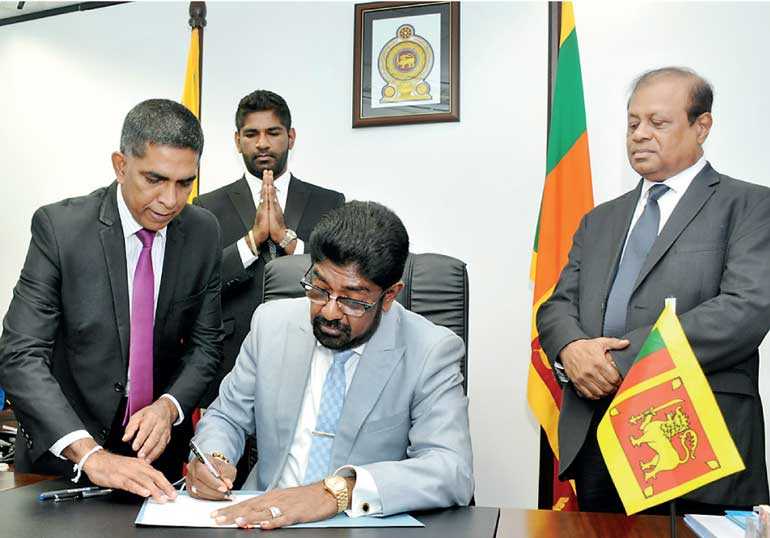 State Minister of Investment Promotion Keheliya Rambukwella assumes duties yesterday – Pic by Lasantha Kumara
New Investment Promotion State Minister confident of growth, fiscal management
Says key focus on streamlining investments, facilitation process to attract direct investments, lay a strong foundation within next four months
Improving ease of doing business priority under the Ministry
Govt. keen on strengthening investment, tourism sector affiliations with India and China
Colombo-Kandy Expressway to be expedited, plans underway to set up industrial zone in Galagedara
By Charumini de Silva

New State Minister of Investment Promotion Keheliya Rambukwella yesterday valued the stimulus package at Rs. 550 billion, while noting that the Government was confident of growth and fiscal management.

Officially assuming duties at the Ministry at the World Trade Centre in Colombo yesterday, he said Sri Lanka would continue to focus on streamlining investments and facilitation process to attract direct investments and lay a strong foundation to ensure investment growth from in next year onwards.

"With the current state of the economy, this country can no longer depend on loans and facilities. We need to attract direct investments whereby we will stabilise the rupee, look into unemployment and budget deficits to bridge the gaps as far as possible. We have initiated some actions immediately after election which will ease the burdened general public by way of reducing the taxation," he said.

Rambukwella said the Government was losing about Rs. 550 billion worth of revenue by the reduction of taxes announced this week.

"Some are arguing about how the Government is going to compensate the revenue loss with the tax cuts, but we are only losing around Rs. 550 billion. Our collection back then was Rs. 1 trillion and the former Finance Minister Mangala Samaraweera increased it to Rs. 2.2 trillion. With the tax reduction we can still manage with the remaining Rs. 1.5 trillion very comfortably," he pointed out.

The State Minister also said ease of doing business would be a key task of the Ministry to ensure that Board of Investment (BOI) operates as a one-stop-shop (OSS) than a non-stop-shop.

"The BOI and this Ministry was initiated to make everything easy for the investors coming in and operate as an OSS, but I don't know if we have realised the purpose of it. Now we have the task of making these institutions viable for investors," he added.

Outlining that the key focus was on streamlining the investment facilitation process with a strong base in the next four months, Rambukwella said they also hoped to bolster investment and tourism sectors affiliations with India and China which had always been good friends of Sri Lanka.

"We do not like to commit to any unrealistic target at this point because our prime focus is on putting a strong foundation to promote and facilitate investments in the country. We must ensure that this strong base is also efficient and accepted at international standards," he said.

He stressed that investors had lost confidence in Sri Lanka during the past four years, as there had been no national security or political stability – two critical factors in attracting Foreign Direct Investment (FDI).

Pointing out that the Colombo-Kandy expressway had been given top priority, the State Minister said along with that the Government was hopeful of setting up an industrial zone somewhere in Galagerara area which would then have access to both airport and sea port within a 45-minute drive on the highway.

When asked about the petroleum refinery that was signed by the BOI days before the Presidential Election, Rambukwella said the country required one, but denied to comment further without studying the project.

"We should do away with the political culture where we just lay foundation stones for projects that are not even realistic. Otherwise we will once again become a welfare government that gives handouts to all rather than empowering them to progress for a better living standards. We need to create a stable economy instead of a dependent economy," he added.

He also said President Gotabaya Rajapaksa and Prime Minister Mahinda Rajapaksa had high expectations of this ministry, particularly to support economic revival. "We have a challenging task to fulfil, but we are confident of delivering it with a strong base within the next four months," the State Minister said.