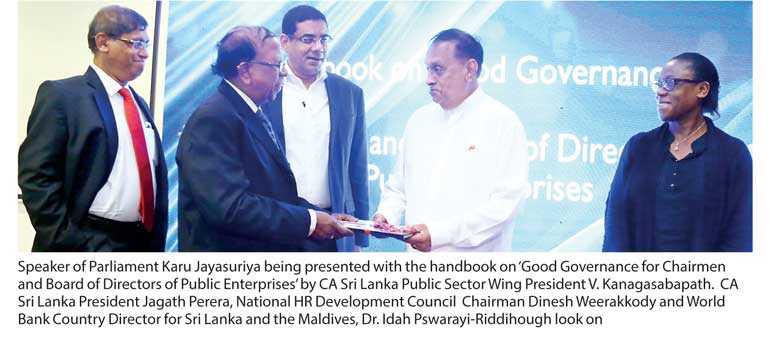 Calls for good governance to halt losses, corruption in public sector and state owned business undertakings
Multi-stakeholder initiated Handbook on 'Good Governance for Chairmen and Board of Directors of Public Enterprises' debuts
By Shannon Jayawardena

Speaker of Parliament Karu Jayasuriya yesterday urged the public sector and state-owned business enterprises to improve good governance in order to ensure that the economy and society stopped "bleeding" in terms of losses and corruption.

"Public enterprises play a vital role in the public delivery system and are major contributors to the national economy. Therefore I appeal to public enterprises to stop the bleeding and improve the quality of life of people," Jayasuriya said at the launch of the handbook on 'Good Governance for Chairmen and Board of Directors of Public Enterprises'.

He emphasised that the handbook would serve as a guide to manage the affairs of those institutions effectively. "If the enormous losses of the public corporations can be stopped or minimised to a certain extent, it will certainly strengthen the country's economy. As we are aware, the present government has taken several initiatives to ensure transparency, accountability and the participation of good governance in managing the public sector," said Jayasuriya.

He stressed the fact that this could be the official handbook for the management of public enterprises. "Approach, dedication and commitment are very important. Napoleon, addressing his officers, once said that there were no bad men [soldiers] but only bad officers.

If the private sector's top management is committed and has a vision, they can deliver," added Jayasuriy
The book was launched as a collaboration between Chartered Accountants of Sri Lanka (CASL) and the National Human Resources Development Council (NHRDC) with the aim of sharing best practices and insights on good governance for public enterprises and boards of directors.

World Bank Country Director for Sri Lanka and the Maldives, Dr. Idah Pswarayi-Riddihough ,in her keynote said: "What does good governance require? It requires credible and trustworthy institutions built on principles of transparency and accountability. Accountability goes beyond the mere responsibility of the delivery of a task or service. It also means answerability if a service is not delivered in a timely and efficient manner such that it becomes a burden. It is the citizens' right but also their duty to demand it."

She also noted that numerous cross country studies have shown the negative impact of corruption on growth and investment. A 70-country study conducted in 2007 by Aidt indicated that countries with higher quality institutions experience higher growth and lower corruption. It further estimated that countries moving to high quality institutions had a growth premium of 26% in the short run and 40% in the long run.

"I trust these dimensions of development are also very relevant for Sri Lanka, which has made important progress in strengthening the country's governance framework and institutions with the 19th Constitutional Amendment. The Amendment provides for more independent accountability of institutions such as the Human Resource Development Council, the Auditor General, Information and the Procurement Commission. The recently approved Right to Information and Audit acts are also very progressive. All these create a conducive environment to improve the transparency, accountability and performance of the public sector in general and of public enterprises," stated Pswarayi-Riddihough.

The event concluded with a panel discussion moderated by NHRDC Chairman Dinesh Weerakkody and CASL Public Sector Wing V.Kanagasabapathy, Auditor General's Department Auditor General Gamini Wijesinghe, Sri Lanka Institute of Directors President Preethi Jayawardena, Central Bank of Sri Lanka Bank Supervision Additional Director RoshanPerera and CASL Vice President Manil Jayasinghe serving as panellists.

"The lack of professional management is the problem. Not only with the board but with the senior level management as well. There must be a continuous monitoring of the operations. These problems can be solved by introducing good governance," said Kanagasabapathy.

The handbook on good governance was developed by updating the existing guide by a committee consisting of representatives from CASL, SLID, Public Enterprises, the Department of the Treasury, Ministry of Public Enterprises Development, Ministry of National Policy and Economic Affairs, SEC and CBSL.

Therefore it includes salient features and key provisions of relevant statutes and is expected to serve as a reference guide for the chairman and board of directors of public enterprises across the country.

"There are so many rules and regulations but they have not been implemented properly. It has to be enacted to some extent. Little by little we are coming to that platform. Mismanagement is the biggest challenge and things need to be brought onto the table. It is only then that we can implement effectively," noted Wijesinghe.

A good accountability structure is key in order for these issues to be addressed and developed. If that structure is to be placed, then all these problems will be solved, he added.

"Any organisation must be run ethically and efficiently with proper regulation practices. If not, at the end of the day, the organisation will suffer but whether is it due to their incapability or government compulsion is something we have to ponder upon," Jayawardena stated.

The Sri Lanka Institute of Directors has a board leadership training program which is tied up with the IFC and covers everything a director should know in running a company efficiently, he noted.

"As a board we are committed to understanding where we are at the moment. You cannot put all public enterprises into one sector as some are handled well and some aren't. It's all a spectrum. The lack of accountability is a huge problem and this needs to addressed," said Perera.

She underscored the challenges that public enterprises face and shared her viewpoints on managing these issues while speaking on the current measures that are being taken. She added that creating awareness over rights and regulations was very important.

"One of the key differences between the private and public sectors is that sometimes the public sector has objectives which are not necessarily only profit. You need to bring in a performance management culture and you need to think how to best provide the operations," stressed Jayasinghe.