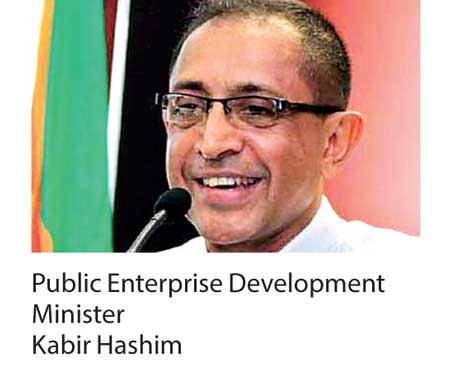 Offers to present report before COPE to expedite action against former president's family and others
Says sidelined report was recommended by Public Enterprise Ministry to Sirisena
JVP charges inefficiency of Govt. had let off culprits responsible for SriLankan and Mihin Lanka losses
By AshwinHemmathagama – Our Lobby Correspondent

Public Enterprise Development Minister Kabir Hashim yesterday highlighted the importance of the Weliamuna Report in Parliament and volunteered to bring the report to the Committee on Public Enterprises (COPE) to expedite action against Rajapaksa family members responsible for ruining national carrier SriLankan Airlines and now-defunct budget carrier Mihin Lanka.
Minister Hashim, responding to a supplementary question raised by Opposition lawmaker JVP MP Dr. Nalinda Jayatissa, stated that the Weliamuna Report, which was sidelined before, was recommended to President Maithripala Sirisena by his ministry in writing to be used as the basis to conduct the investigations of the newly-appointed Presidential Commission for Investigations.

"The Weliamuna report is very important but we have failed to make use of the report. I have informed the President to consider the Weliamuna Report as a part of the Presidential Investigations Committee. On the other hand, our ministry is also looking at establishing the recommendations in the Weliamuna Report. We have also given the report to the FCID to continue its investigations. I am more than willing to bring this report to the COPE for action," said Minister Hashim.

According to MP Dr. Jayatissa, the Government's inefficiency has led the Rajapaksa family members to getaway, leaving behind the massive debt burden and losses for the public to shoulder.

"SriLankan Airlines and Mihin Lanka come up again with the appointment of the Presidential Committee to Investigate. But immediately after this Government came to power a report was obtained from J.C. Weliamuna. The Government spent over Rs.4.2 million for that report. But no action was taken based on the recommendations of that report," he charged.

"COPE reported the losses incurred by SriLankan Airlines. But the Government is marking time till the report of the Presidential Committee of Investigation comes out. But why don't you take action against those who are responsible for these losses based on the Weliamuna Report? The Unity Government was here for almost three years. While you turn a blind eye, those who are responsible for these losses move freely. If the President is the stumbling block to making use of the Weliamuna Report due pressure can be applied on him at the Cabinet Meeting," he proposed.