---
Just In Time Group (JIT) is a trail blazer in the local ICT arena with solutions and services which have empowered institutions to revolutionise their business and industries. They include the Central Bank, LankaClear, People's Bank and Sri Lanka Telecom to mention a few. For over 2 decades, JIT has been revolutionising businesses and their value addition to their customer through technology. Here, JIT Head of Sales Damitha Jayawardena speaks about the company and its journey of 24 years
JIT started modestly with just four employees and has firmly established itself as a reputed Group with over 400 staff. JIT provides systems integration, network and infrastructure solutions, hardware,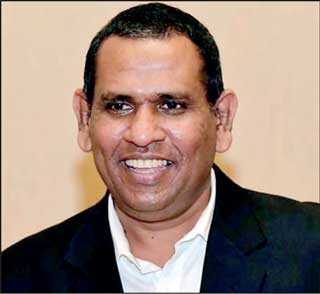 JIT Head of Sales 

Damitha Jayawardena


outsourcing IT professionals, professional services, information security services, maintenance and support services, etc. We firmly believe in value creation through technology be it to our customers or from them to their customers. We place great emphasis on what we have maintained with our customers in terms of relationships and embracing and enhancing technology, and to that end, most of our key customers are returning customers. We believe in engaging with a customer early and identifying their pain points, needs and expectations, and then offering them the right solution rather than a plug and play solution. This sort of customer centric approach is important, and helps us differentiate ourselves as an effective solutions integrator. 

We are instrumental in designing purpose driven solutions for complex IT needs of our customers and we deliver them successfully with agility and flexibility. Thereafter we continue to be there for the customer as their trusted and dependable support partner. We constantly upgrade our skills and technologies we offer to stay relevant to serve the customers' ever-changing needs.

JIT has been instrumental in changing the ICT arena in Sri Lanka by implementing and supporting along with its world renowned principals, mission critical projects in the country namely Central Bank's Real Time Gross Settlement (RTGS) System with Logica CGI as its partner, the Central Bank's Scripless Government Securities Settlement System, and the bank's Treasury Management System with CCK of Australia. The only Common Switch in the country operated by LankaClear is also implemented and supported by JIT with its principal FIS. 

The SLT billing system and the Operational Support System (OSS) and most recently, the People's Bank Digitalisation project with Silverlake are also milestone projects of JIT. We have successfully delivered/executed every one of these and other large projects and got User Acceptance Test (UAT) sign-off, which is critical in our industry. Up to date, we continue to service/support/upgrade these projects which is a testament to our customer satisfaction and retention excellence.

We have very strong successes in the banking and payments industry which are significant in size. These projects have also contributed immensely to the ICT industry and economy of Sri Lanka such as the only National payment Switch, the Real Time Gross Settlement System and the Scripless Government Securities Settlement System to name a few. Similarly, we have successfully put together 11 technologies from different companies together to give one solution for an internet-based broadcasting need of a customer. 

In summary our biggest achievement is our ability to be customer centric and connect up great technologies without being enslaved to a few technologies as their local representative. If I were to single out, LankaClear, the National Common Card and Payment Switch (CCAPS), was a game changer for the country. 

CCAPS is an important national project that JIT maintains continuous and uninterrupted support service operations together with our strategic technology partner FIS. Furthermore, the support provided is 24x7 with L1 and L2 since commencement of the project, which continues to date and plays a pivotal role for all national ATM transaction activity.

We are passionate about being a technology transfer enabler. Today we see encouraging signs from the public sector whilst in the private sector the aggression is mostly from the banking and telecom sectors who are futuristic. The rest of the economy and private sector should consider investments in IT if they are to become successful in the longer run. In this regard, investment in IT security and understanding the vulnerabilities and risks is key as well. 

The COVID-19 virus took over our world in ways we never imagined, and became an everyday challenge for people and businesses alike, in every aspect of their lives. At such a crucial time in our country's history, essential services played an important role in keeping the economy going, on necessary functions for all citizens. JIT has long been playing a silent role in supporting the country's essential services. With over 24 years as a systems integrator delivering some of the nations' critical systems and even through this health crisis, JIT stood firm in its commitment to ensure the country and its essential services, continued to function at its optimum.

Our contribution and association towards critical infrastructure through technology, and keeping these technologies up and running in an uninterrupted manner, spans over two decades. We have trained and skilled support teams who work closely with our customers across banks and telcos to keep their mission critical systems running with near zero downtimes. The recent lockdown gave greater emphasis to the need and advantage of having strong back-end support through experienced, tried and tested technology firms. The new future and vision will adopt more technology that will provide reliable and scalable tech.