By Shannon Jayawardena
A leading systems integrator in Sri Lanka, Just In Time Group (JIT) held its annual Solutions Day recently while highlighting disruptive technology as the way forward, inviting various industry experts to share insights on how businesses can grow with the digital change that is taking place today.
The event covered some of the timeliest topics covering information and digital security, the evolution from traditional IT to modern IT, virtualisation, AI, data analytics, disruptive technology, Iot, machine learning and the smart city evolution among others.
JIT caters to four main sectors which include the banking and finance sector, telcos, commercial, government and defence hence members from the various fields participated in the full day event that shared great information and solutions in taking the industries forward in par with the digital economy.
JIT Group CEO Chrishan Mendis said: "This is a company that delivers change and it has been 22 years since we started the company. Today we live in a world where technology companies are getting into financial services and various changes are being implemented, especially in the digital transformation."
Mendis noted that the boundaries and parameters are changing and new industries are getting redefined. The power of data must be understood by industry leaders and operational dynamics have to change with the rapid digital transformation that is taking place in the world today.
The speakers in their presentations shared insights into the complications many businesses face and how ICT specialised software and systems could help to overcome these issues in their respective companies.
Continuous disruption requires adapting to change
While continuous disruption is having a direct impact on technology, business strategies and decision-makers in every industry today, it requires adapting to change and growing with change accordingly highlighted CA Technologies Chief Technology Officer Stephen Miles in his keynote at the forum.
"It's not just about doing digital as everybody is doing it. It's really about doing digital well and not equally well, but doing it continuously better than your competitors because failing to do that, you might find that all the investments made will be all a waste of time and money. You have to move with the digital agenda."
It is vital to create a business which is not just built to last, but one which is designed to change and change is all about embracing new technology. It's not possible to think about change, unless you think about really embracing innovation and technology. These technologies are changing businesses to be the businesses themselves," he stressed.
Enabling a trusted digital environment in Sri Lanka
Along with their numerous benefits digital technologies also bring with them numerous cyber threats. The global number of cyber security incidents recorded in 2015 was 59.06 million and a study estimates that the total annual cost of all data breaches by 2019 will be $2.1 trillion which is almost four times the estimated cost of breaches in 2015.
In Sri Lanka, The Sri Lanka Computer Emergency Readiness Team and the Coordination Centre received 3907 cyber security related incidents in 2017, which is a significant increase compared to 2010.
Gemalto Government Business Unit and Singapore Country Head Asia President Teck Lee Tan stated: "The world is ever more digital and exchanges ever more value with 50 times more individual digital interactions in 2025 than in 2010. Therefore, governments, enterprises and their customers must be able to trust their digital interactions."
Tan stressed on the fact that it is crucial to build a trusted digital environment in Sri Lanka, noting that a digital inclusive country will include a digitally connected society, education without barriers, knowledge based employment, a global innovation hub and a citizen centric digital government.
He also stressed that traditional security is no longer sufficient with breaches growing year on year across all sectors. A total of five million data records are being stolen per day on average. The main causes of cyber threat incidents is identity theft accounting to a total of 69% breaches. Hence creating a trusted digital environment is essential for success insisted Tan.
Next generation businesses powered by APIs
To achieve maximum agility, companies should follow the best-of-breed strategy by connecting multiple applications via adaptive APIs, instead of using integrated software suites, emphasised Axiata Group Chief Information Officer Anthony Rodrigo in his keynote.
"Education and engagement are a key piece of the puzzle. Passionate engagement creates an army of followers. There are so many APIs which include Internal and External APIs. It is important to have 'multi-purpose' concept and evolve the API platform rather than having a 'single-purpose'."
Further he noted that the critical success factors for winning in the API business include looking beyond your own enterprise APIs, partnering with the eco-system to co-create, innovating both externally and internally on an API fabric and leaving ego aside and partnering. He urged companies to follow these concepts if they are to truly succeed in the journey of digitalisation.
Rapid response is key to strong data privacy
Data breaching affects so many people, causing multiple layers of damage and one of the key challenges we face is hacking. Hackers are now focused, creative and patient and attacks on the surface are growing exponentially stated RSA Regional APJ InfoSec and Risk Advocate Ramon Karingal.
"Recent data breaches include the Citibank incident where approximately 123,690 clients' data vanished on the first of February. This happened under my watch and was a very painful experience. The lessons that I learned were if things can go wrong, things will go wrong and no matter what, you are held accountable for the problems," said Karingal.
He highlighted the fact that over 70% organisations said they were compromised during the period of last year, 56% stated that they were unlikely to detect an attack and in terms of breach readiness nearly 55% lack the capability to gather data across their estate and 40% do not have active vulnerability. Karingal hence stated that you have to have rapid insight, full responsibility, business context, efficient comprehensive response aligned to business priorities in order for businesses to be ready with strong data privacy.
Draining the data swamp
There are many modern data challenges when it comes to data swamp, some of which include too much data and too many silos of information and the incorrect and inconsistent business metrics and reports stressed dataWerks CTO and Founder Tony Andris at the forum.
"Likewise confusion, inconsistent representations of reference data and the increasing complexity and decreasing consistency are major problems when it comes to the data swamp. The two typical legacy ways to manage big data therefore are data warehouse and data lakes," said Andris.
- Pix by Indraratne Balasuriya
Panel discusses 'Regulatory Economy Vs Disruptive Economy'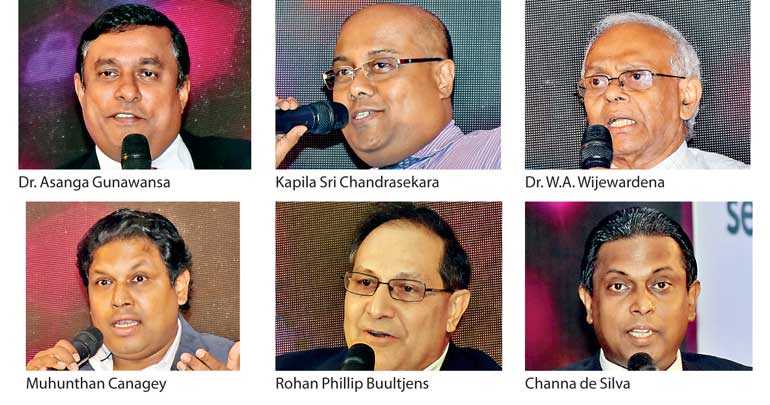 The JIT Solutions Day also included a live discussion on the 'Regulatory Economy Vs Disruptive Economy' which was moderated by Daily FT Editor Nisthar Cassim.

The panellists included Attorney-at-Law Dr. Asanga Gunawansa, Innovative Telecom CFO and Corporate Strategist Kapila Chandrasekara, Central Bank Former Governor Dr. W.A. Wijewardena, Duo World Inc. CEO and Chief Architect Muhunthan Canagey, Digital Transformation Consultant Rohan Philip Buultjens and LankaClear Chief Executive Officer Channa de Silva.

Dr. Wijewardena said: "Disruption of economies through technological advancement, we find that it has being happening throughout human history. What is important today is that it is happening at a very fast rate, so that no one would be able to even tap into these disruptions that are happening today."

He also added that digitalisation is at a very low rate at 25% in Sri Lanka while only 10% have smart phones in the country. Therefore, what we have to do is become the drivers of the disruption, rather than being the victims.

Buultjens sharing his views on the global trend of disruptive economy noted: "Today there are a couple of global trends. There's the shift of the economy from the West to East which happened quite rapidly. Then there's the technology convergence that is happening and creating a lot of disruptions in terms of value creation."

He also acknowledged the demographic change that is happening in the world today, stating that countries like Germany's working population will be able to contribute to the economy. People are hyper connected and because of this, there is a lot of disruption happening insisted Buultjens.

"There's a lot being spoken about disruption but it is important to know how to change this. The fundamental problem is that we are so hierarchical in this country and organisations too are very hierarchical, whereas the competition is coming from the youth but that's not what it is," said expert Canagey.

He also added: "The competition who are the youth are saying we want to do things different, we want to make sure things are very easy to operate and we just want things which are very simple to do. We need to bring in people below 30 into our enterprises and our corporate sector."

He went on to point out that organisation models have to change, people have to change and we need to bring in a lot of youth to the entire corporate sector in order to drive disruption. If we do not go along these changes, Sri Lanka will get disrupted by organisations outside this country and that has to change in order to truly bring in disruption to Sri Lanka, insisted Canagey.

Sharing his insights on the shift of the regulatory economy to the disruptive economy, Chandrasekara said: "There's a book written by Alvin Toffler where he identified disruption and the change in the economy in the 1970's. So we've had nearly 48 years to get ready for disruption. He identified the future shock as an economy where people actually consume services."

Taking Uber for an example, he noted that if someone books an uber to go to their residence owned by Airbnb and download products from Amazon it depict the future shock as too much change in too little time which is what disruption is today.

Chandrasekara further sharing notes from Toffler's book stated that Toffler himself identified change and value change as reason to social anxiety. Adapting new technology is a massive change but you have to take customer consideration and collaboration in to mind in order to truly succeed. For the disruptive economy to be successful, it needs to have some sort of regulation, he stressed.

Dr. Gunawansa adding to this said: "The very basic difference that I see between regulatory economy and the disruptive economy is that one is regulated and the other needs to be regulated. The questions however is, why do you need regulations?"

"If you look at the disruptive economy, it is part of the industrial revolution. As mentioned by my colleague Uber is probably one of the largest taxi company in the world which doesn't own a single tax. The intervention of funds is a very important aspect to consider in terms of regulation," he added.

The simplest definition on regulations is the intervention into an activity between two or more parties while the rival party has the power to intervene, emphasised Gunawansa while stating that intervention must be done in the public interest and for consumer protection.

Finally sharing with the panel his viewpoints de Silva said: "Everything depends on the context. Disruption is actually driven by consumers and must be based on consumer demand. There is however a lack of demand. It is not the lack of opportunities but the lack of demand that is a huge concern when it comes to the disruptive economy."

It's also the change in behaviour when it comes to demanding things. If people don't demand, organisations cannot make the specific changes, noted de Silva.