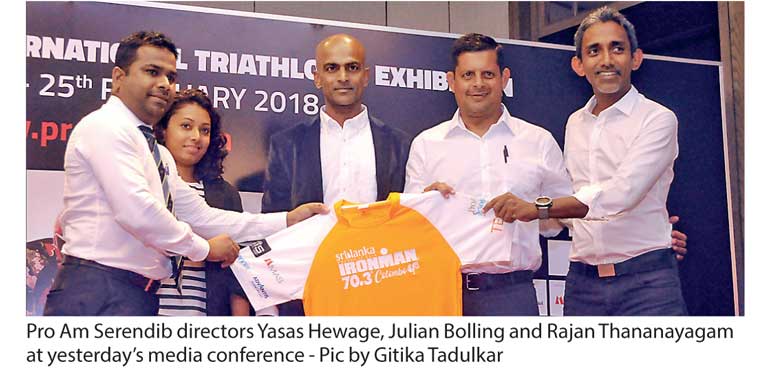 SL all set to host first South Asian Ironman 70.3, expects over 3,000 visitors
880 registered participants from 64 countries, 26% of competitors from Sri Lanka
SLTPB provides Rs. 30 m title sponsorship for the event, believes this will pave the way for many such events in the near future
Organisers Pro-Am Serendib says Sri Lanka could be promoted as destination for multi-sports and endurance events
Over 500 volunteers and 300 policemen and Navy personnel deployed to ensure event safety
By Charumini de Silva

The first-ever South Asian Ironman 70.3 triathlon event is all set to be staged in Sri Lanka on 25 February, with over $ 3 million in revenue expected from the 3,000 high-spending visitors the event is anticipated to draw.

"With expectations to attract high-profile participants and families during the period between 22 and 25 February, whom we think will spend seven to eight days in the country, the sporting event will generate revenue close to $ 3 million," Pro Am Serendib Director Yasas Hewage said at a media briefing in Colombo yesterday.

Noting that there were 880 registered participants for the triathlon from 64 countries, official licencee of the IronMan global triathlon brand in Sri Lanka, Pro-Am Serendib, said it had to limit the number of participants to 880 as it needed to maintain the standards of the international sporting event.

"We would love to have around 1,000 participants, but we need to maintain standards and ensure the safety of participants," he added.

It was pointed out that over 850 registrations were completed two months prior to the main event. Sri Lanka's 'Wonder of Asia' Ironman 70.3 Colombo was oversubscribed, which is a significant achievement for an inaugural event, demonstrating confidence in Sri Lanka as a destination for multi-sports and endurance events.

He said sports tourism could be a thrust sector for Sri Lanka's economy going forward, with major events of this nature happening throughout the year in all corners of the country.

"All of these participants will take Colombo to the world. As a country we are blessed with an unlimited supply of sunshine and unsurpassed beauty. Now with the many and varied visitors coming to our country we hope to show our Sri Lankan hospitality and hope to show more people from across the globe what makes Sri Lanka the Wonder of Asia," Hewage pointed out.

The triathlon will start with a 1.9 km open water swim off Galle Face Green, followed by a three-lap flat 90 km bike leg past the Colombo Port and along Marine Drive, ending with a 21.1 km run finishing at Galle Face Green.

The top six participating countries for Ironman 70.3 Colombo are India with 133 triathletes, the United Kingdom with 76, France with 47, Australia with 34, the US with 30 and Singapore with 26.

Hewage added that most of these participants are highly qualified lawyers, doctors, engineers and accountants who will spend lavishly, along with their family members, during their stay in Colombo.

Pro Am Serendib Event Director Rajan Thananayagam said Sri Lanka could be promoted as a sports vacation destination.

"We were very keen on having over 20% Sri Lankan participation at this international race and we are happy to note that 26% are from our country, which includes a vedda and a visually impaired triathlete. There are so many inspiring individuals participating," he stressed.

Highlighting that the safety of international and local Ironman 70.3 triathletes was of paramount importance, with proactive safety measures being established, Thananayagam said that over 500 volunteers and 300 policemen and Navy personnel were being deployed for the event.

He said the top 30 participants would have the opportunity to qualify for a spot at the 2018 Ironman 70.3 World Championship in South Africa.

Emphasising that the country had lost its time to shine in the tourism industry due to various reasons, Sri Lanka Tourism Promotion Bureau (SLTPB) Managing Director Sutheash Balasubramanium stressed it was important for the nation to catch up with the unorthodox promotions that came its way.

"Sri Lanka missed many opportunities and it is high time we promote the destination not only through traditional methods but also through other non-traditional platforms as well," he added.

He believes that the Ironman 70.3 Colombo will pave the way for more such events to take shape in Sri Lanka in the near future.

"This is an opportunity for people to see what more Sri Lanka can offer apart from a sun-and-sand holiday destination. As the majority of the participants of the race are high income earners, they can also explore foreign direct investment opportunities in the country," he stated.

Balasubramanium also urged the Colombo city hotels, restaurants and places of entertainment to give their fullest support for the city to come alive with the best hospitality services, which in turn would influence many more tourists to come to Sri Lanka.

According to him, the SLTPB has come forward with a Rs. 30 million title sponsorship for the event.

As Sri Lanka is diversifying its offering with sporting events of this nature, Pro Am Serendib Director Julian Bolling outlined that the company aimed to provide energy which helped bring the country's communities together.

"We have many triathletes with unique profiles; each person has their own story as to why they are challenging themselves. I am certain the emotions of the event and the inspiration of the setting will create an experience that participants will want to have again and again," he said.

Ironman 70.3 is organised by Pro Am Serendib and made possible by title sponsor SLTPB. The host hotel for Ironman 70.3 Colombo is Shangri-La Colombo, the official apparel partner is MAS, the official electronic media partner is MTV/MBC Group, the official logistics partner is Hayleys Advantis, the official insurer is Ceyllinco VIP, the official tea partner is Dilmah, the official wellness partner is Siddhalepa, the official medical partner is Asiri Health, the official car partner is Land Rover, the official travel partner is Hayleys Tours, the official print media partner is the Wijeya Group, the official nutrition partner is SIS, the official outdoor media partner is Emerging Media, the official bike mechanic is Spinner and the official swimming training partner is Rainbow Swimming.