MUMBAI (Reuters): The China-backed Asian Infrastructure Investment Bank (AIIB) should increase lending tenfold within two years to help the region meet its investment needs faster, Prime Minister Narendra Modi said at the third annual meeting of the multilateral lender in Mumbai.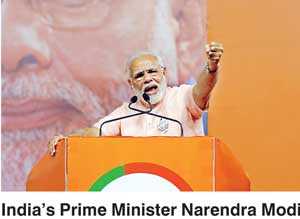 To date the AIIB's loan portfolio totals $4 billion, but by 2020 the figure should rise to $40 billion, and by 2025 it should go up to $100 billion, Modi said. AIIB began operations in January 2016, having been cast by Beijing as an alternative to other multilateral lenders like the World Bank and Asian Development Bank.
It has 87 members, a capital base of $100 billion, and it has approved 25 projects in a dozen countries so far.

Despite the rivalry between China and India, New Delhi has received the largest share of AIIB funding so far - about $1.3 billion.


As well as disputes over stretches of a 3,500 km (2,200 miles) border - the two fought a brief border war in 1962 - the Asian giants have squabbled over China's signature 'Belt and Road' infrastructure initiative.


India has signaled unease over China's grand trade and transport plan as one strand runs through Pakistani-administered Kashmir, which India claims. Many 'Belt and Road' projects are supported by China's state-owned banks and the AIIB.


However, at a summit meeting in April, Modi and Chinese leader Xi Jinping agreed to begin a new chapter in their relationship.


Modi said finding resources to improve infrastructure in developing countries was a challenge and multilateral institutions including the AIIB can play a "central role" in helping raise resources.


AIIB President Jin Liqun said that between now and 2030, Asia's investment in infrastructure must rise to $2 trillion a year, about triple that in the past.


"This is an enormous challenge," he said.