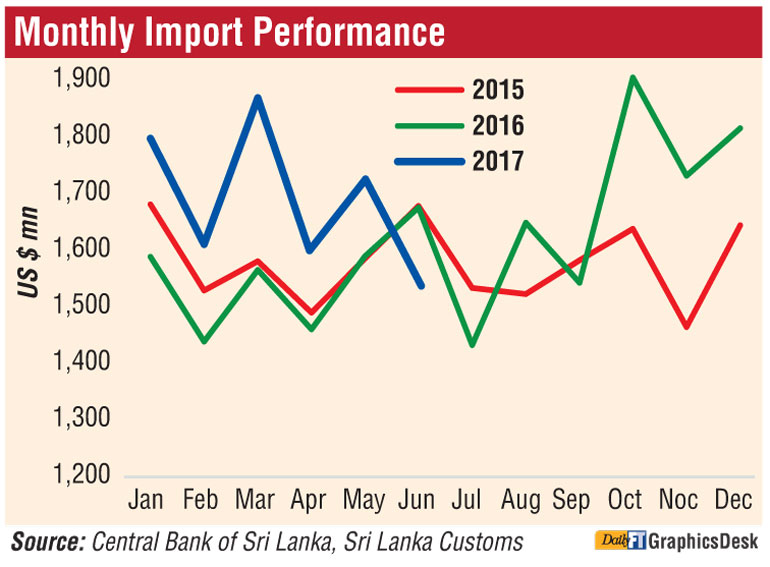 The country's imports in June have declined for the first time in 11 months though the first-half performance remains positive.

The Central Bank said expenditure on imports in June dipped year-on-year by 8% to $ 1.54 billion due to lower demand from across all major categories, particularly intermediate goods.
Expenditure on the import of intermediate goods declined by 13% to $ 792 million. This was led by a 34% dip in fuel imports expenditure reflecting lower import volumes and average import prices of crude oil and refined petroleum products.
In addition, lower import expenditure on base metals such as iron and steel as well as rubber and articles, especially rubber in primary forms, also contributed significantly to the dip in intermediate goods import.

However, imports of gold rose by 42.3% and fertiliser gained for the first time since August 2016 due to high shipments of urea. The import of textile and textile articles was up 1.7%.


Consumer goods imports declined by 9% to $ 323 million driven by lower imports of non-food consumer goods such as media and pharmaceuticals, clothing and accessories, personal vehicles and telecommunication devices.


Imports of food and beverages also declined. However, the increasing trend in rice imports observed since January 2017 continued in June as well. Rice imports expenditure grew by over eightfold due to 16 million kilos of import volume in June in comparison to two million kilos a year earlier. Expenditure on sugar imports rose by 3.4% to $ 26 million owing to higher prices.


Import expenditure on investment goods declined marginally by 1.2% to $ 405 million led by lower imports of building materials and machinery and equipment. Imports of building materials dipped by 7% owing to lower imports of iron and steel, cement, wood products, ceramics and mineral products. Expenditure on machinery and equipment declined by 2%, led by the reduction registered in machinery imports for the textile industry, electric motors and generating sets, agriculture machinery and telecom devices. However, imports of transport equipment rose by 19% due to higher imports of road vehicles such as vans, tankers and bowsers.

On a cumulative basis, import expenditure in the first half grew by 9% to $ 10.15 billion due to higher imports of fuel, gold and rice whilst machinery, equipment, personal vehicles, textiles declined.


India, China, the UAE, Singapore and Japan continued to be the main import origins in the first half, collectively accounting for 59% of imports.