Says tourism recovery slower than anticipated
Points to $ 5.6 billion in lost earnings, 20,000 jobs lost
Tourism was expected to earn $ 7 b in 2020 prior to Easter Sunday attacks and COVID-19
Looks to early implementation of wage support scheme for the tourism industry
Calls for innovative stimulus packages to restructure tourism industry debt to avoid financial system instability
---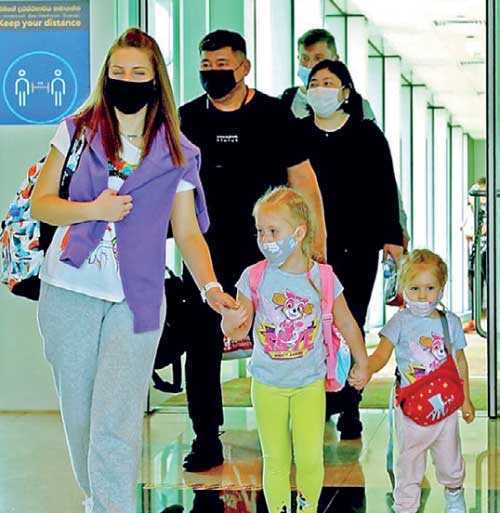 The Hotels Association of Sri Lanka (THASL) yesterday thanked the Government for extending the moratorium for tourism-related loans for a further period of six months but appealed that more support is needed if the industry is to ward off the unprecedented crisis.

The moratorium's extension was part of the Central Bank's financial relief for the heavily COVID-19-affected tourism industry.

Expressing his gratitude to the Government, THASL's President Sanath Ukwatte said: "We are thankful for the Government's and Central Bank's ongoing support to keep the tourism industry afloat during these unprecedented times. The moratoriums have provided tremendous and immediate relief for tourism stakeholders and helped the banking industry to regularise tourism related loans."

However, THASL emphasised that debt moratoriums themselves will be insufficient to address the crisis faced in tourism. A recent survey of hotel owners done by THASL revealed that 80% of owners believed that moratoriums alone will not be sufficient to overcome the unprecedented challenges faced by the industry.

Before the Easter Sunday Attacks and the COVID-19 pandemic, tourism was Sri Lanka's most lucrative economic sector. In 2018, tourism receipts exceeded $ 4.3 billion (second only to the apparel industry) and provided direct and indirect employment to over two million people. The travel and tourism sector accounts for nearly 10% of Sri Lanka's GDP – a critical sector for growth.

Tourism recovery slower than anticipated

The pandemic and its impact on the global travel industry has put the local hotel industry at risk of closure. It has also disproportionately impacted micro, small and medium-scale tourism enterprises who rely entirely on foreign tourists for their livelihoods. THASL expects that ongoing travel restrictions imposed by countries, slow vaccination drives and delays in introducing vaccine passports, will have a direct effect on the immediate recommencement of the tourism industry.

"We expect the recovery will be longer than anticipated. Our major tourist generating countries and regions including the UK, EU, India, China and Australia – which generated two million visitors in 2018, are still under lockdown."

THASL President also expressed concern that Sri Lanka's tourism workers are yet to be vaccinated, putting a potential spanner in the multi-billion dollar industry's recovery.

$ 5.6 billion in lost earnings; 20,000 jobs lost

THASL is asking the Government to provide direct support to the tourism sector to soften the impact of the crisis until people feel safe to travel en masse again. Analysts are predicting that tourism will not hit pre-COVID levels until 2024, leaving the industry the most vulnerable due to the ongoing pandemic.

"We are the worst impacted industry in the country today. The industry has lost over $ 5.6 billion of earnings from April 2019 to date. We have continued to pay salaries for all our permanent employees, while we were compelled to layoff around 20,000 non-permanent staff due to cash flow constraints. Some of our members have converted their hotels as quarantine centres, which is just enough to meet the costs of direct staff wages. There's no way we can navigate ourselves out of this crisis without substantial Government support," emphasised THASL's President.

Tourism's employment crisis comes in the wake of a yet-to-materialise decision by the Cabinet of Ministers to introduce a wage support scheme for the tourism industry. Several countries have introduced similar schemes to help pay employee salaries and save jobs. THASL President applauded the Government for agreeing to introduce such a scheme, but raised concerns that the scheme is yet to be implemented despite the decision being made several months ago.

Hard-hit tourism industry looking at innovative stimulus packages to restructure debt to avoid financial system instability

To support the industry's position, THASL has recommended the Government to implement innovative structural measures to help restructure ballooning tourism-related debt. Sri Lanka's banks are said to hold over Rs. 350 billion of tourism debt. This is a substantial amount with wide ranging financial system stability risks should there be mass scale defaults. THASL is asking for the Government and Central Bank to step in and help restructure tourism debt in order to avoid cascading defaults and financial sector instability.

THASL has proposed an interest waiver and debt restructuring program where all tourism-related debt interest from April 2019 is waived by banks and all remaining debt is rescheduled at a concessionary interest. Any bank losses arising from the interest waivers can be appropriately compensated through reductions in banking taxes or Government rebates. THASL has also asked the Government to look at similar steps taken by various Governments following the 2017 global financial crisis and more recently in Thailand and other tourism dependent markets.

"Without a stimulus like this, it's very difficult to sustain our hotels and maintain the livelihoods of our employees," emphasised the President of THASL.

"Besides, we needed to invest more to maintain and refresh our hotels during the crisis. Both the Easter Sunday Attacks and the pandemic has struck the industry incredibly hard and brought it to a virtual standstill."

Tourism hit by twin crises

The twin crises of the Easter Attacks and the global pandemic has brought Sri Lanka's tourism industry to a crippling halt. The near two year-long crisis places Sri Lanka's tourism industry at a much worse position than its regional competitors, who have only had to deal with the pandemic alone.

"It's important to mention that both these crises were beyond our control and that's the reason why we are asking the Government for help," emphasised Ukwatte.

"We have invested huge amounts of capital and have a large, trained labour force. Our priority is to protect these jobs and retain them until the industry bounces back. If we let go now, tourism in Sri Lanka is in danger of collapse."

Sri Lanka's cumulative tourism earnings for the last two years have dropped by a record breaking 80%.

Sri Lanka has nearly 30,000 rooms in the formal tourism sector and another 5,000 rooms under construction. The island nation is also expecting massive tourism-related investments in the $ 1.5 billion Port City development in Colombo, which will come online in the next three years. The tourism industry is confident of earning in excess of $ 6 billion by 2025. Prior to the Easter Attacks and the pandemic, Sri Lanka's tourism sector was poised to earn $ 7 billion in 2020, which would have placed it as the country's biggest revenue generator.

Sri Lanka's tourism industry provides huge employment potential for youth and women. With vaccination drives having commenced in most of Sri Lanka's key tourism markets and the impending introduction of vaccine passports, the industry is confident of a phased recovery commencing from the final quarter of this year.