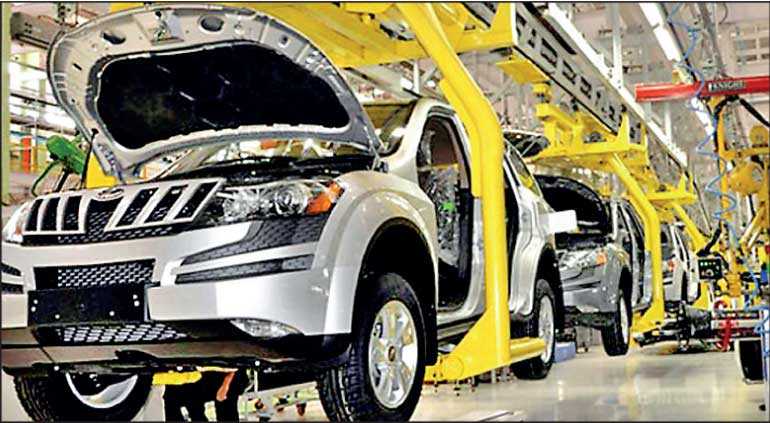 ---
SLACMA hails Govt. move; says demand for locally assembled vehicles will rise
Claims failure by previous regime to hike resulted in loss of 1,200 jobs
New move to help local vehicle assembly explore opportunities to export to Africa
Affirms local auto component manufacturers have potential to enhance jobs, forex earnings
SLACMA urges Govt. to relax import restrictions on engines, chassis, and gearboxes to encourage locally assembled vehicles
By Charumini de Silva

Sri Lanka Automotive Component Manufacturing Association (SLACMA) yesterday welcomed the Government's decision to increase the Loan to Value (LTV) ratio on locally assembled vehicles as major boost to domestic industry as well as tap export markets.

The Central Bank a fortnight ago allowed licenced commercial banks and specialised provide loans upto 70% of the value for locally assembled motor cars, SUVs and vans and if they are electric vehicles it will be 90%. For non-electric imported vehicles the LTV is a lower 50%. Imports also will be based on proforma invoice value and not market value.

"At a time when the Government has imposed a total ban on vehicles imports, the increased LTV ratio will provide a major boost to the local automotive manufacturing industry," SLACMA President Dimantha Jayawardena told the Daily FT.

He said that move follows a request made by SLACMA to President Gotabaya Rajapaksa and is aimed at encouraging locally assembled vehicles.

Jayawardena also said the increased LTV ratio to 70% creates demand for locally assembled vehicles at the point of sale, as it eases the financial burden for the end customer. "When the demand for locally assembled vehicles risees, it eventually reflects in the demand for local components and helps create more local job opportunities," he added.

He claimed the requests made by the association was overlooked for four years by the previous Government which resulted in loss of over 1,200 jobs in 10 direct and indirect auto component manufacturing companies.

Sri Lanka's automotive component manufacturing industry comprises of around 50 industries, of which 10 are highly successful. He said many member companies are directly providing auto components to the three local vehicle assembly license holders which includes Unimo Enterprises Ltd., Micro Cars Ltd. and Ideal Motors Ltd.

"Some of the local vehicle assembly license holders are already exploring possibilities to export to Africa," Jayawardena revealed.

He noted that the Industry was not recognised as a vital sector within the Sri Lankan manufacturing clusters until recently, and they have now managed to convince that this industry with export potential as well as to save foreign exchange.

He asserted that SLACMA has been able to work closely with Industry and Commerce Ministry and the Export Development Board (EDB) to help to identify local automobile component manufacturing as a potential industry for industrial development and employment generation in the country.

Pointing out that some of the major vehicle components such as the chassis, gear box, engines are not manufactured in Sri Lanka, SLACMA has also requested the Government to relax the import restrictions on those items to encourage locally assembled vehicles.

Jayawardena believes the increased LVT will help to obtain minimum viable manufacturing volume to maintain original equipment manufacturer (OEM) quality in their products as well as to obtain ISO/TS and TUV certification to enter the export market.

Noting that the current automotive component market in Sri Lanka is heavily dependent on imports he asserted the locally manufactured vehicle parts are much better than imported ones and that if they can obtain certificates for those it would help Sri Lanka boost its export earnings in near future.

During the past 10 years the SLACMA has been instrumental in promoting Sri Lankan auto component manufacturing into new heights. "From the inception of the association, we have tried best to promote our local automotive component manufacturing industry and we will continue to do so," Jayawardena added.

Automotive components presently manufactured in Sri Lanka include tyres, batteries, rubber components, silencers, seats, radiators, bumpers, body panels, suspension components, cables, wire harness, air and oil filters.