SC hears submissions for 5th day challenging Parliament dissolution and election date
Counsel for President Secy. says DGHS has sent letter saying COVID-19 situation fairly under control
Says adherence to WHO guidelines helped bring situation under control
ASG takes submissions saying petitions seeking to stop right of people to vote
Says SC has previously upheld franchise as a fundamental right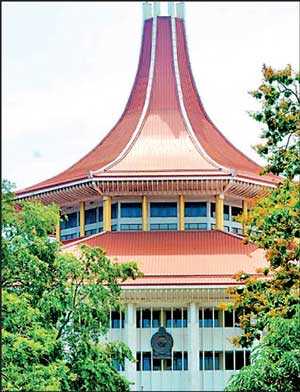 The Health Services Director General (HSDG) Dr. Anil Jasinghe has informed the Secretary to the President Dr. P.B. Jayasundera that the COVID-19 situation in the country is fairly under control and the Election Commission can begin preparatory work for the Parliamentary Elections, the Supreme Court was told yesterday.

Romesh de Silva PC, Counsel for Dr. Jayasundera – who is one of the Respondents in several Fundamental Rights petitions filed challenging the Gazette issued by President Gotabaya Rajapaksa dissolving Parliament as well as the Gazette issued by the Election Commission that set 20 June as the election date – said Dr. Jasinghe has informed his client that while no vaccination has been found for COVID-19, the Health Ministry has followed guidelines set by the World Health Organisation (WHO) and brought the situation under control.

The petitions are being heard before a five-member Supreme Court Bench comprising Chief Justice Jayantha Jayasuriya and Justices Buwaneka Aluvihare, Sisira de Abrew, Priyantha Jayawardena and Vijitha Malalgoda.

Saliya Peiris, Counsel for the Chairman of the Election Commission Mahinda Deshapriya and one of its members, Nalin Abeysekera – who are also Respondents in the case – requested the Court for time to counter some of the allegations levelled against his clients by de Silva, who, on Thursday (21 May) blamed the EC for the delay in holding the election and thus depriving the people of their right to vote.

Additional Solicitor General Indika Demuni de Silva, appearing on behalf of the Attorney General, in her submissions, said the petitions challenging the dissolution of Parliament and holding of elections are misleading and contradict one another.

She submitted that the SC has upheld that the people's right to exercise their franchise as a fundamental right and hence there was so basis for filing petitions seeking to deprive people of this right.

She also said it is unfortunate that one member of the EC – Ratnajeevan Hoole – has filed a separate petition saying the nominations accepted on days declared as public holidays are invalid, adding that under the Parliamentary Elections Act, nomination can be accepted on a public holiday. She said that it has been two months since the nominations were accepted and no one had raised objections earlier.

She also rejected allegations raised about the curfew, which some of the petitioners said is illegal, saying the curfew has been imposed under the Quarantine Ordinance.

Further hearing into the case will recommence on Tuesday (26 May).