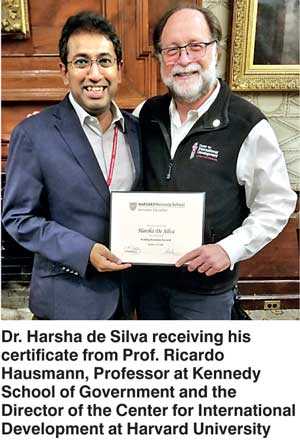 State Minister of National Policies and Economic Affairs Dr. Harsha de Silva recently completed a short executive education certification course on 'Leading Economic Growth' at the Kennedy School of Government at Harvard University.

This annual program brings together leading experts in economic development with practitioners from around the globe to focus on practical approaches to shared growth and development. It provides a framework for understanding economic growth, as well as sophisticated tools for diagnosis and decision-making. This year's participants came from all regions of the developing world and included junior ministers of economics and finance from several countries.

The program used extensively the example of where Dr. de Silva collaborated with the Kennedy School to develop a unique 18 week online course on Economic Diplomacy for Sri Lanka's top diplomats and commercial attaches around the world when he was Deputy Minister of Foreign Affairs. The faculty explained how Sri Lanka began using senior staff within the broad network of embassies to proactively seek commercial opportunities for Sri Lankan exporters and for inward foreign direct investments based on new approaches and tools that focus on expanding a country's set of productive capabilities and expressing them in a more diverse and complex set of products and services.

Dr. de Silva obtained his Ph.D in development economics from the University of Missouri twenty five years to this year and has subsequently completed executive education at the Massachusetts Institute of Technology. Before joining politics, he has consulted in over twenty countries and published in peer reviewed international journals on technology and development. He is also the co founder of what is today Nielsen Lanka, this country's leading market and social research agency. He started life as the chief economist and treasurer of DFCC.