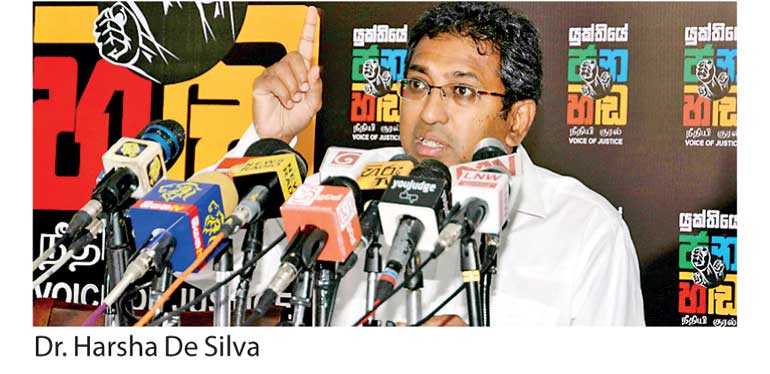 Says political turmoil is prompting rating agencies to tag SL as credit negative
IMF staff level agreement postponed
Claims stock market rise due to manipulations by a handful of people
Worried CB fighting lone battle to hold rupee
United National Party (UNP) yesterday blamed the current political crisis of the country having a detrimental effect on Sri Lanka's economy with agencies threatening to downgrade the country's credit ratings

The Deputy Minister of State for National Policies and Economic Affairs of the Sirisena-Wickremesinghe Government Dr. Harsha De Silva claimed that the country's economy has taken a serious blow to fulfil selfish political ambitions of a handful of people.

"People should know what has happened to Sri Lanka's economy by this situation. The credit rating agencies are threatening to downgrade our country. We hear that the Central Bank was in desperate discussions yesterday with the credit agencies to prevent this. The IMF has not finalised an agreement that was supposed to be signed on Monday. It is the people who will pay," he said, speaking at a media briefing held at Temple Trees, the Official Residence of the Prime Minister.

According to him, the International Monetary Fund (IMF) has put on hold a staff level agreement which was to be signed with the Ministry of Finance on Monday.

Following the constitutional crisis that developed over the weekend, the IMF has put the matter on hold, he said

The UNP, which has made Temple Trees the battle headquarters of the Party, called on the Rajapaksa faction to 'rescue the rupee' as they claimed they would after taking over the Government.

"The rupee continues to still fall. Now at least they should realise that it was not a political issue linked with our Government, but an issue with the current situation in the international market," Dr. de Silva claimed.

"Where are the so-called economic experts now? They should have been able to strengthen the currency as they said. It should have been brought to Rs. 150 per dollar by now," he charged, adding that one of the country's main foreign exchange earners, tourism, has taken an even more serious hit due to the current political situation.

"Sri Lanka was named the top destination only a week ago. Today, there are travel advisories against coming to Sri Lanka. Tickets have been cancelled. They have undone everything we worked so hard to build," he said.

The international Bonds have taken a serious hit, he said, claiming that some interest has shot up.

Dr. de Silva claimed that the stock market turning bullish was a result of manipulation by a handful of people where pump and dump was being practiced.

"They can raise it only to dump later," he claimed.

Confident of regaining power by next week, Dr. de Silva claimed that they have given assurances that the economy which the "UNP worked hard to restore", will be back to normal soon.

"Investors rating agencies are in dialogue with us and we have said that this setback is temporary, and we have told them the economy will be back to normal. We have today and tomorrow before Mahinda Rajapaksa, the bogus Finance Minister, goes home on Monday. It is now evident to everyone that they cannot do any of the things they claimed. It was only shop talk," he said.