Says he seeks increased security after recent statements made by President
Copies letter to Speaker, AG, diplomatic missions and UN representatives
---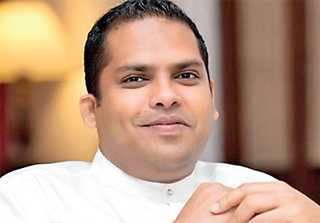 Harin Fernando
---
Samagi Jana Balawegaya (SJB) Parliamentarian Harin Fernando yesterday wrote to the Inspector General of Police (IGP) C.D. Wickremeratne, expressing concern over his safety and seeking security following comments made by President Gotabaya Rajapaksa recently in Uhana, Ampara.
"The President clearly insinuates that he is capable of having me 'killed like a dog' if I continue saying things that displease him. So long as he continues to fail in his duties, I must do my own duty by continuing to say things that displease him, whatever the risk to my life. Therefore, I must bring this matter to your urgent attention. Given the serious nature of the threat made by President Nandasena Gotabaya Rajapaksa, who is also Commander-in-Chief of the security forces and Minister of Defence, I have no reason to doubt him when he implies that he is capable of doing me harm," Fernando stated in his letter to the IGP.

The Opposition Parliamentarian sought an increase in his security detail citing the alleged threat made to his life, pointing out that he had a duty to speak for his constituents and had the fundamental right of freedom of speech to do so.

"I ask that you kindly arrange without delay to provide me with adequate security against this grave threat to my life and to my duty to speak freely on behalf of the 2.8 million voters who supported the Samagi Jana Balawegaya. It is my fundamental right to say what I wish without fear of being summarily executed like a terrorist," Fernando stated.

MP Fernando said that the alleged comments were the first time he had received a "credible death threat", pointing out that it was his first experience where a political opponent had tried to terrorise him with the threat of violence.

"For the record, this is the first time I have ever received a credible death threat. I am used to democratic politics, where politicians engage each other and debate their ideas and opinions. This is my first experience of a political opponent trying to terrorise me into silence using fear and the threat of violence," Fernando stated.

The Opposition MP, in his letter to the IGP, pointed out that the head of the Police was duty-bound to protect all Sri Lankans and not be partial to an individual who holds a leadership position. "Protecting the life and liberty of Members of Parliament discharging their duties is not a personal favour I am asking of you, but an exercise of your solemn duty to defend the Constitution of the Republic, which you are sworn to do. As a career Police officer, I trust that you do not want to be remembered as the IGP who oversaw the first assassination of a Sri Lankan Parliamentarian since the end of the Civil War."

Fernando also said he would send copies of the letter to the Speaker of Parliament, the Attorney General, heads of foreign missions in Colombo, and the United Nations Special Rapporteurs on Freedom of Opinion and Expression, and on Extrajudicial, Summary or Arbitrary Executions.