With 27 power plants in SL and abroad having installed-capacity of 218 MW, WindForce to use new equity to fund further expansion
First SL firm to set up renewable energy plants in Pakistan, Uganda and Ukraine
Rs. 2.3 b to be used as equity for new wind power project in Mannar and solar power plant in Senegal
Post-expansion installed capacity will be 263 MW, with about 60% in SL
15% stake offer of new shares at Rs. 16 each now up for grabs, official opening on 24 March
---
By Nisthar Cassim
---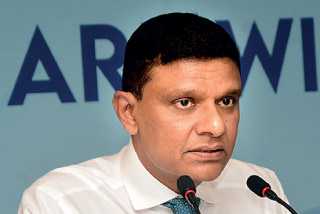 WindForce Chairman Ranil Pathirana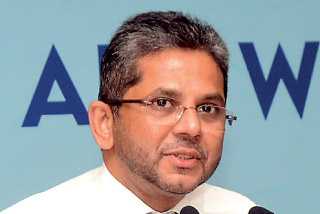 WindForce Managing Director Manjula Perera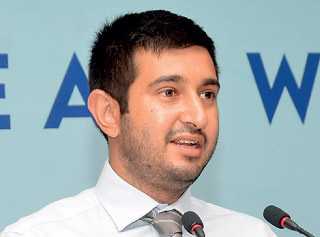 WindForce Director Hussain Akbarally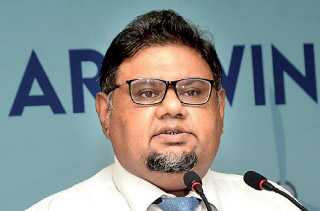 CT CLSA Holdings Director Zakir Mohamedally
- Pix by Upul Abayasekara -
---
Bullish on growth, Sri Lanka's biggest renewable energy firm WindForce Ltd., yesterday announced a Rs. 3.2 billion expansion both locally and internationally; funds for which will be sourced via the Initial Public Offering (IPO) now open for subscription.

Founded in 2010 by Akbar Brothers Debug Computers and Hirdaramani Group, who invested in renewable energy as a diversification strategy, WindForce is a pioneer and the largest producer of renewable energy in SL, apart from the first local firm to expand overseas.

Starting with two 10 MW wind-power energy plants in the Puttalam district, WindForce has since grown its footprint as well as expanded to solar and mini-hydro, both in SL and overseas. At present, it operates 27 power plants (solely and jointly owned) with an installed capacity of 218 MW of which, 55.4% or 120.8 MW is based in SL and the rest in Uganda, Pakistan and Ukraine. The 218 MW comprises 70 MW of wind plants, 122 MW of solar and 26 MW of small hydro power.

Their first overseas venture was in Pakistan, where it operates a 50 MW solar power plant among others.

"We want to share the future journey with the rest of Sri Lankans and overseas investors in Colombo stock market," WindForce Chairman Ranil Pathirana said.

The IPO offers a 15% stake or 202,615,341 new ordinary voting shares at Rs. 16 per share and aims to raise Rs. 3,241,845,456. The Joint Managers and Financial Advisors to the issue are CT CLSA Capital and Capital Alliance Partners. The official opening of the IPO is 24 March, but investors can subscribe to it now. WindForce has been issued a [SL] AA- (stable) credit rating by ICRA Lanka, which is the highest rating given to a corporate in SL at the time of the issuance by ICRA Lanka.

Of the IPO funds, WindForce plans to allocate Rs. 2.3 billion as equity investment for two new projects – Rs. 927 million for a 15 MW wind power plant in Mannar and Rs. 1.4 billion for a 30MW solar power plant in Senegal. Remaining funds of Rs. 932 million will be utilised for future projects the company intends to undertake in SL or in other countries.

The total installed capacity of the company will increase from 218 MW to 263 MW with the completion of the projects in the pipeline, which would further strengthen the Company's position as the largest renewable energy Independent Power Producer (IPP) in SL and one of the largest in the region.

"Why we are different from others is we use the latest technology. In solar plants, we have used single access tracking, bio-efficient technology solar panels and we hope to introduce new battery technology in the upcoming venture in Senegal," Managing Director Manjula Perera said.

According to him, another unique feature of WindForce is it designs, develops, owns, operates and maintains almost all its plants. This effort is backed by world-class engineers, he added.

Director Hussain Akbarally said WindForce is "extremely excited" about the next step of its journey, and looks forward to growing sustainably in the future, whilst embracing the latest technology available from the world.

CT CLSA Holdings Director Zakir Mohamedally said the IPO price offers an attractive discount. At issue price, price earnings multiple of 7x, which is a discount to the sector PE of 11.7x. Once listed, WindForce will have the biggest market capitalisation of Rs. 21.3 billion, whilst in terms of capacity, WindForce is five times bigger than the largest listed sector company at present.

He also said the Company is uniquely positioned in terms of dividend yield and growth potential. "Considering all these factors, we believe the IPO offers an attractive investment proposition for prospective investors," Mohamedally added.