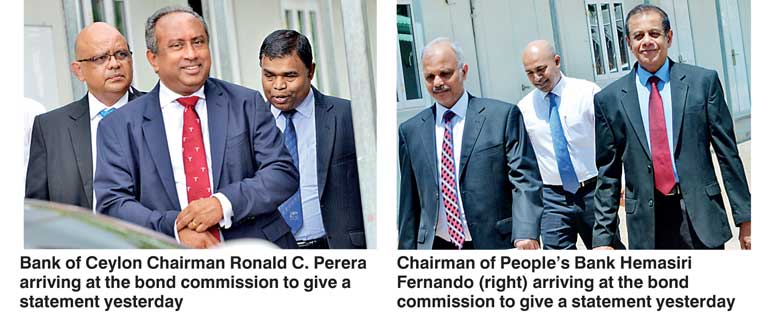 By Himal Kotelawala

Chairmen, CEOs/General Managers and other senior officials of the three state-owned banks yesterday told the Presidential Commission of Inquiry on the controversial bond issuance that former Finance Minister Ravi Karunanayake had on two occasions instructed them to bid at lower-than-market yield rates, assuring them that bids at higher rates would not be accepted.

However, much to their surprise, the Central Bank of Sri Lanka (CBSL) had accepted bids at significantly higher yield rates from other primary dealers at the Treasury bond auctions held following the two meetings in late March 2016, resulting in a notional opportunity loss to the banks.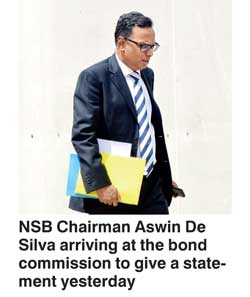 Leading evidence before the commission, officers of the Attorney General's Department questioned eight witnesses from the Bank of Ceylon (BoC), the National Savings Bank (NSB) and People's Bank on events leading up to the two auctions, all of whom attested to two separate meetings chaired by the former Minister on 28 March and 30 March 2016, instructing them to bid low, supposedly seeking their assistance to bring down high interest rates prevalent in the market at the time.

According to People's Bank CEO/General Manager N. Wasantha Kumar, the advertised volume for the following day's auction was Rs. 40 billion, but Rs. 77 billion had been accepted. The second meeting, held at the Treasury, again chaired by Karunanayake, and attended by the two chairmen of BoC and NSB as well as Senior Advisor to the Prime Minister R. Paskaralingam, the former Minister had instructed to once again bid at lower rates, this time at a volume of Rs. 7.5 billion each.

"We were assured that nothing higher would be accepted," said Kumar.

The rates were not disclosed at the hearing, but are mentioned in an affidavit submitted to the commission by the People's Bank CEO.

Kumar testified that he had concerns of an immediate opportunity loss, which the bank had calculated. The CEO had communicated his concerns via text message to Paskaralingam.

The message referred to two undisclosed companies' that had submitted their bids for bond auctions at "much higher rates than we agreed yesterday."

Kumar said he did not receive a reply.

Responding to a question by Commissioner Justice Prasanna Jayawaradena, the People's Bank CEO said that what Karunanayake had said about interest rates being high at the time was, in fact, true, and that it was desirable it be brought down: hence the bank's decision to bid low. His issue, however, was that a higher volume had been accepted than what was promised.

The second meeting held on 30 March 2016 was of similar nature, but according to Kumar, the state banks had been given a reassurance that there would not be a repeat.

Justice Jayawardena asked Kumar if a fund requirement of the State had been mentioned at the meeting to be met by 1 April, to which he said he could not recall a mention of such a requirement.

"If you had known the State required Rs. 105 billion, would your actions have been different?" asked Justice Jayawardena.

"Yes," replied Kumar.

The People's Bank CEO said that at the meeting held on 28 March, Minister Karunanayake had proposed a range of rates, as opposed to specific rates, and asked the state bank officials to decide.

"We had to agree because the owner of the state bank is the Treasury and when the line minister instructs like that, we have to adhere," said Fernando, adding, however, that he was in full agreement with the concerns raised by his GM, barring one matter pertaining to a possible appointment of one Mr. Haliyadda on a request made by the Minister.

People's Bank agreed to Karunanayake's instruction, he said, as it would have been better for the bank, considering it could have made more profits at a lower rate.

"[The Minister] advised us to reinvest the matured investment," he said.

"We knew [the rates] were lower than market rates, but we had no option," he added, reiterating that the Treasury and the Finance Ministry "own" the state banks.

He did, however, testify that he agreed with the opportunity loss calculated by his CEO.

At the second meeting held on 30 March, he corroborated Kumar's recount that volumes of Rs. 7.5 billion had been requested in the presence of Paskaralingam and other chairmen.

Fernando also said that he thought former Deputy Governor of CBSL P. Samarasiri was present at one of the meetings ("I think the first one").

At this point, Samarasiri's counsel Attorney-at-Law Harsha Ferandno, pointing out to faulty memory of the witness, suggested that the People's Bank Chairman had confused the 28 March 2016 meeting with a meeting held in March 2015, and therefore his client had not attended either of the meetings. The lawyer also referred to no mention being made of senior CBSL officials by Kumar.

Hemasiri Fernando, however, maintained Samarasiri had in fact been there but added that "this is what I remember, but if it's going to confuse these proceedings, I would respectfully withdraw my mentioning of him." Subsequently, however, he said that he did recollect that one of the two meetings the former Deputy Governor had indeed been sitting "right in front" of him.

Attorney-at-Law Fernando then suggested: "You do not have a clear recollection of who attended those meetings," adding that his client had not attended any of the meetings.

NSB Chairman Aswin de Silva, who had attended the 28 march meeting with his GM Dhammika Perera, attested to the presence of Paskaralingam and other officials from CBSL and the Treasury as well as Deputy Governor Samarasiri. However, he could not recall exactly which meeting Samarasiri had been present in, but added that he had clarified with his GM.

Lawyer Fernando suggested that de Silva's recollection was "hazy", adding that the witness was trying to piece together what had happened.

"Not really," said de Silva. Though he could not recall how many had been present, he did remember who was there, he said.

De Silva confirmed the request made to the state banks by Minister Karunanayake, stating that the latter had indicated a range of rates for the ISINs to be auctioned the next day (29 March 2016).

NSB had placed its bids accordingly, on the rates thus prescribed by the Minister, he said.

NSB Head of Treasury Division N.P. Lionel, testifying next said that, though he had not attended the 28 March meeting, NSB GM Dhammika Perera communicated to him about what had transpired and who had been present - including Deputy Governor Samarasiri.

Lional, too, corroborated the version of events spelt out by the other witnesses, stating that NSB's Investment Committee, which usually decides on matters pertaining to treasury bonds, had agreed to proceed with the rates prescribed by Karunanayake.

He too pointed to an opportunity loss to the bank, but as People's Bank had already raised their concerns, Lional said NSB did not feel the need to object at the second meeting held on 30 March.

The opportunity loss calculated is at present undisclosed, but is mentioned in an affidavit submitted to the commission by Lional.

Reference was also made to NSB Chief Dealer Naween Anuradha. Responding to questions raised by Senior Additonal Solicitor General Dappula de Livera and Justice Jayawardena, Lional claimed that his dealing limit of Rs. 1 billion had been withdrawn subsequent to Anuradha's recruitment, after Lional had complained to his GM and Chairman that he did not wish to work with him. Anuradha, he claimed, had said to Lional that he maintained a "good relationship" with Minister Karunanayake.
BoC Chairman Ronald Perera, testifying before the commission, again attested to the participants of the 28 March meeting, including his fellow state bank chairmen, Secretary to the Finance Ministry Dr. Samaratunga, et al. However, he did not mention then Deputy Governor Samarasiri.

Perera, too, spoke of the promise to not accept bids at higher rates.

The Deputy Governor Samarasiri's counsel, at this point, asked: "If any of the Deputy Governors of CBSL had been there, you would've recognised them?"

"Yes," said Perera.

The commission's hearing continues tomorrow.