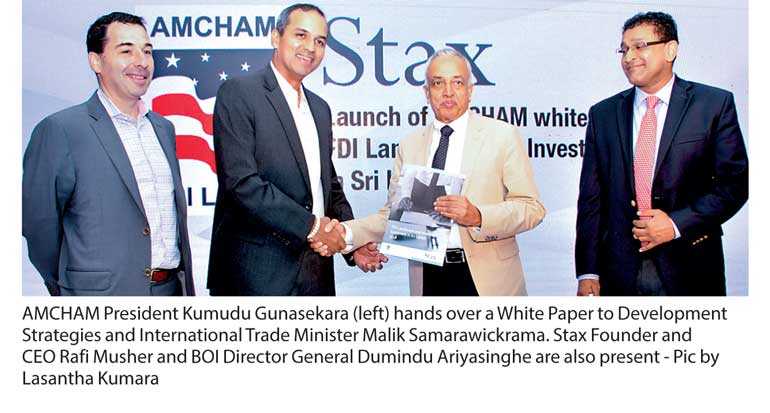 By Charumini de Silva

As Sri Lanka looks to position itself as an attractive foreign direct investment (FDI) and trade destination in its pursuit of economic reforms, Stax Founder and CEO Rafi Musher pointed out that policy consistency and stability would remain key over the next couple of years before investors began to trust the process.

Delivering the keynote address at the launch of the whitepaper titled 'FDI Landscape and Investor Sentiment in Sri Lanka' organised by the American Chamber of Commerce in Sri Lanka (AMCHAM) yesterday, he said the way forward required clarity, particularly with a portfolio approach.

The AMCHAM, in collaboration with global strategy consulting firmStax, compiled a detailed analysis of the private sector's views of the local business environment and the major operational challenges faced by potential investors with a view to bring various aspects of FDI together as one complete story which helps facilitate discussion and development in key areas.

The first copy of the whitepaper was handed over to Development Strategies and International Trade Minister Malik Samarawickrama by AMCHAM President Kumudu Gunasekera.

Musher outlined the need to streamline agencies for FDIs under one umbrella, policy stability, negotiate favourable and clearly defined trade policies, define and articulate Sri Lanka's value proposition across industries and capabilities, improve transparency and corporate governance, make more tools available and increase financial incentives to bring in capital across sectors and invest in education and vocational training to match industry needs and potential.

Policy instability was highlighted as a key issue, which has been felt by investors across a range of issues amplified by shifts in the political landscape over the last few years.

"Changes in tax policy such as VAT rates, import duties and sudden shifts in economic strategies have all contributed to sending negative signals to prospective investors looking to bring FDIs to Sri Lanka," he stressed.

Musher cautioned that Sri Lanka,as a developing economy,would face similar competition from regional players like Bangladesh, Vietnam and Myanmar in its bid to attract foreign investments. In terms of value proposition, high performers in the region such as the Philippines and Vietnam were likely to pose a more direct threat, he said.

The AMCHAM and Stax survey estimates for FDI inflows into Sri Lanka over the next five years were "somewhat positive" with FDI inflows expected to be around $1 billion over the next year and double over the course of the next four to five years to hover around $2 billion past 2020. This FDI growth is expected to be driven primarily by key investment projects around the Hambantota Port and Colombo International Financial City.

He also said that a firmographic survey of CEOs and owners on investor sentiment indicated a higher proportion of businesses to be in the services (37%) and manufacturing (30%)sectors.

With FDI being a key indicator in assessing Sri Lanka's growth, he noted that in recent times there had been some discrepancy in FDI data reported by various sources and called for one agency for data collection supported by technology.

"Data is collected from a range of sources, including the Central Bank, Colombo Stock Exchange (CSE) and the Board of Investment (BOI). However, the Central Bank is the final authority on inflows. However, FDI data specific to the BOI is also published by the Central Bank. These figures are not according to the standards of the International Monetary Fund (IMF) definitions and do not paint an internationally comparable picture of FDIs. Under these circumstances it is critical to have clarity around the data. It is timely to setup one clear authority for FDI data collection, which will be digitised," he said.

The decline in FDI inflows from $1.5 billion in 2014 to $970 million in 2014 has been attributed to a policy shift on tax concessions granted by the BOI. In addition, according to the Central Bank, two national elections held in 2015 contributed to further political instability resulting in a cautious approach by potential investors, while the global outlook, including the FED rate hike, also played a contributory role.

It was pointed out that the FDI inflow into Sri Lanka primarily originated from Asia which includes Malaysia, India, Netherlands, China and the UAE with telecommunication, tourism and manufacturing being key sectors.

However, Musher noted that some important FDI attracting sectors may not be adequately accounted for in the current compilation methodology.

"The IT/BPM sector draws in foreign investors and has an average annual export growth of 18%-19%, yet the impact on FDI is not well-taken," he emphasised.

He said that despite the US being among the top 10 countries of origin, they accounted for only 4% BOI investment in 2017, noting that the current quantity of FDIs from the US was insignificant. The primary barrier appears to be a difference in standards for transparency and governance. Therefore, he suggested that addressing these concerns would be important in attracting FDIs from the US to Sri Lanka.

"Sri Lanka clearly has strengths and opportunities," Musher said.

Sri Lanka's strategic geopolitical positioning and quality of labour were highlighted as primary factors that led to businesses considering the country as an FDI destination. In addition, access to key markets, literacy and language skills, tax incentives, quality of infrastructure and economic conditions were also key aspects.

Musher said labour was also at the forefront in terms of operational challenges with businesses citing a lack of sufficient labour supply as a major hindrance for operating in Sri Lanka, while high cost and low employee productivity relative to salary too ranked as top labour-related concerns.

In addition, policy instability, a high cost of space, cost of setting up business, regulatory concerns and a lack of space were outlined as major operational challenges faced by businesses.

"There is a ton of talent in Sri Lanka. It is a lot easier to find talent here than anywhere in the world. However, to overcome the labour constraints the Government will need to ensure that education, training and development is aligned with the new growth sectors," he added.

Noting that Sri Lanka was at a pivotal juncture, Musher said that if private sector concerns were not addressed, the vision of being an attractive FDI and trade destination would likely remain a pipedream.