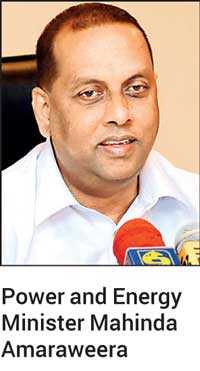 With the possibility of power cuts looming, Power and Energy Minister Mahinda Amaraweera yesterday directed officials to begin preparations for the construction of a combined cycle 300 MW Liquefied Natural Gas (LNG) power plant project in Kerawalapitiya, the Ministry said in a statement.

The Cabinet last month approved to build three 300 MW LNG plants and two coal power plants in an effort to deal with long delays in the country's long-term generation plans. No power plants have been constructed in Sri Lanka since 2015, leading to demand outstripping supply.

In a meeting held yesterday, the Minister said the Government intended to start building all three LNG power plants within this year, which will add 900 MW to the national grid but the statement failed to give details. LNG power plants on average take at least three years to construct and start power generation.

Noting that the matter was discussed at length even during this week's Cabinet meeting, Amaraweera called on the officials to expedite processes to commence construction with immediate effect.

"The objective is to provide an uninterrupted power supply throughout the year and necessary steps have already been taken to address this," he added.

The Minister also pointed out that the Cabinet had given the green light to increase the debt limit of the Ceylon Petroleum Corporation (CPC) to Rs. 100 million. In addition, he said that the Ceylon Electricity Board (CEB) was in the process of negotiating with two banks to obtain a credit facility of Rs. 5 billion for the purpose of paying the CPC.

Amaraweera also said the decision to curtail power supply for two hours on Monday was an "act of cowards" to sabotage the day-to-day life of the people and called on the officials to take proactive measure to ensure there would be no such occurrences in the future and to submit a comprehensive report on the incident.

He claimed that the decision to curtail supply of power was not informed to any relevant authority in the Power and Energy Ministry or Public Utilities Commission of Sri Lanka (PUCSL) or CPC or CEB.

Despite the fact that the demand for electricity had increased by 27% during the past five years, he claimed that the previous Government had not taken any measures to at least address it or increase power supply by at least 2%. He also said that this was a key issue and the Government was trying to grapple with the challenge.