Cabinet nod for Fossil Fuel Resources Development Act to transfer powers from Minister to Mineral Resources Authority
New Act will replace Fossil Fuel Resources Act of No. 26 of 2003
Gammanpila says fresh legal framework will help attract investment into sector
---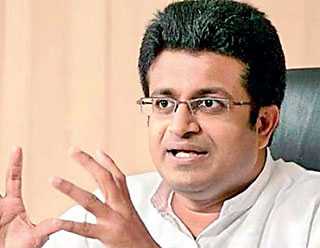 Energy Minister Udaya Gammanpila
---
Cabinet approval has been given to draft a new Fossil Fuel Resources Development Act, a top official said this week, paving the way for regulatory frameworks around oil and gas exploration to be changed and new expertise to be brought on board.

Cabinet Co-Spokesman and Energy Minister Udaya Gammanpila told reporters on Tuesday that the new Act will replace the existing Fossil Fuel Resources Act of No. 26 of 2003 and transfer powers that has been exclusively held by the Power Minister to a Mineral Resources Authority. The Cabinet paper was presented by Power Minister Dullas Allahaperuma.

"Since the 1960s, it was the Power Minister who had sole regulatory authority and we realised that a single person having so much control was a barrier for international companies to be attracted to investing in Sri Lanka," Gammanpila said.

He recalled that for decades there was speculation of oil and gas reserves off Sri Lanka's coastline, but Sri Lanka still spends billions of dollars on fuel imports every year. The Minister emphasised that significant foreign exchange could be saved if Sri Lanka's own oil and gas exploration sector could be developed.

"We wanted to know why we continue to be in debt to the world when there is such a precious resource underground," he added. He also pointed out that Sri Lanka must evolve regulations so the Government could obtain recommendations and advice from experts to develop the sector.

To address these issues, the Energy Ministry gazetted a National Policy on Natural Gas (NPNG) last October, which included the establishment of a 'National Gas Company' with necessary powers, resources, and operational independence to handle all Government economic transactions relating to the natural gas industry in the country.

The proposed Company will be the Single Credible Creditworthy Entity (SCE) to handle all economic transactions pertaining to Natural Gas on behalf of the Government, either as its own business operations or by entering into Public-Private Partnership (PPP) ventures.

In 2011, Cairn India Ltd., discovered gas deposits in the Mannar basin but pulled out of an exploration project in 2015 as oil prices plunged. In the first eleven months of 2020, Sri Lanka saved $ 1.2 billion, according to Central Bank data, as COVID-19 caused global oil prices to plummet and domestic consumption also reduced.