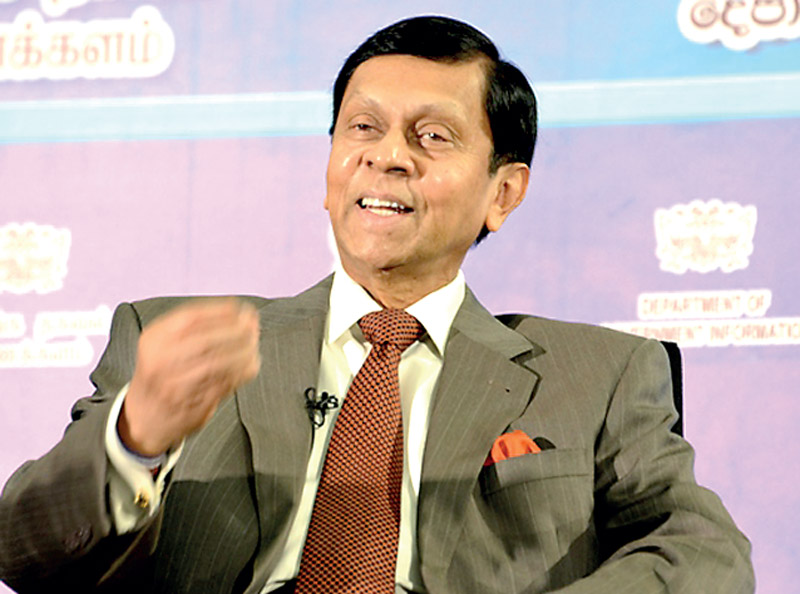 State Minister of Money, Capital Market and State Enterprise Reforms Ajith Nivard Cabraal
---
Previous 6% growth projection unrealistic given COVID third wave impact
Says countrywide lockdown hampered economic activities, Govt. revenue, SMEs
Cabraal says keeping country operational critical to kick-start tourism industry
Asserts Govt. will deploy all tools possible to stabilise economy
Dismisses suggestion by economists and Opposition for a deal with IMF
---
By Charumini de Silva
---
The Government on Friday revised down the 2021 economic growth forecast to 4.5-5% from the previous prediction of 6% due to the impact of the third wave of COVID pandemic.

"The 6% growth projection by the Central Bank was prior to the third wave of COVID-19. It is an ambitious target, yet difficult to achieve at this juncture. It is more realistic to say that we will achieve a 4.5% to 5% growth this year," State Minister of Money, Capital Market and State Enterprise Reforms Ajith Nivard Cabraal said during a webinar titled 'Will the economy collapse?: Will GSP+ be lost?' organised by the Government Information Department.

He acknowledged that if there was no countrywide lockdown, the 5.5% to 6% growth projection estimated by the Central Bank would have been possible.

The release of first quarter data by the Department of Census and Statistics has been delayed also due to the third wave.

The State Minister pointed out that the Government had lost tax revenue as a result of the months under curfew and lockdown, and it has impacted adversely on the SMEs.

"We need to understand that saving both lives and livelihoods are equally important. To revive the economy to a stronger path, we need to keep the country open and fast-track the national vaccination program," he said.

Citing Singapore›s model to revive the economy, Cabraal said keeping the country up and running amidst the COVID-19 should be the foundation to kick-start the tourism sector that attracted $ 4.5 billion foreign exchange annually.

"It is understood that we need to adhere to health authorities, but we also need to allow tourism activities to pre-COVID levels like Singapore, the US and the UK. We need to allow flights. It is unrealistic to revive the economy with borders being closed," he added.

The State Minister asserted that more delay to implement the actions will prolong the process to revive the economy.

"It is easy to point out the problems, but none of these economists are giving solutions. The only thing they promptly suggest is to push towards the International Monetary Fund (IMF) as they too are aware of the taste of the pudding in the eating. This is the kind of Opposition we have, if they are so concerned they should support the Government to overcome the mess they created," he said, responding to criticism from the Opposition.

Cabraal also said the Government will not shy away from deploying all tools possible to stabilise the economy in the coming months.

"We will face the challenges ahead of us, manage the unfamiliar circumstances and we will succeed eventually," he added.