Move aimed at promoting local companies manufacturing quality apparel and discourage dumping of cheap imports
Per unit/kilo CESS favours high value clothing importers, say analysts
---
By Charumini de Silva
---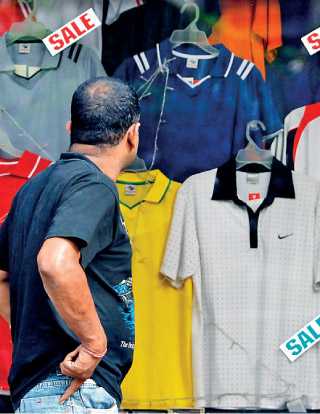 The Government this week announced high CESS on imports of apparel following the lifting of the ban imposed in May this year.

The new Cess imposed on clothing imports is Rs. 450 per unit on mens and women's outerwear; Rs. 200 per unit for innerwear and night garments; Rs. 200 per kg on babies' garments and clothing accessories; and Rs. 200 per kg on bed, table, toilet and kitchen linen. Previously a Cess of Rs. 100 was imposed per kg.

The circular was issued by Minister of Trade Bandula Gunawardena by virtue of powers vested in him by Section 14 of the Sri Lanka Export Development Act No. 40 of 1979.

Capital Alliance said higher taxation will add to Government revenue whilst encouraging domestic production of apparel at affordable prices.

It said clothing imports accounted for $ 275 million in 2019 or 1.4% of total imports. In the first eight months of this year, imports fell by 21% to $ 138 million.

Capital Alliance also said given CESS is taxed per unit or per kilo, the impact will be the same irrespective of the value of the piece of clothing imported.

For example, whether the import cost of a t-shirt is Rs. 500 or Rs. 5,000 the importer will still have to bear the same Rs. 450 per unit CESS.
"The impact will be smaller in percentage terms for importers of high value clothing," Capital Alliance said. It believes this might be beneficial for branded apparel importers such as Odel and Softlogic Holdings, who cater to a less price sensitive clientele, and can now bring down clothing without restrictions.

Import sources said the formula doesn't favour small and medium scale traders of imported clothing.

Prior to the new measures both local producers and importers had several rounds of discussions with officials, including Batik, Handloom, and Local Apparel Products State Minister Dayasiri Jayasekara in early September.

One view was that imports weren't necessary if local companies produced quality apparel, hence any additional tax must be fair and transparent. Local consumer interest as well as Sri Lanka's growing aspirations to become a hub for high-end shopping for tourists were emphasised.

On the other hand, local manufacturers have complained that the tariff structure gives advantage to imports at the expense of promoting local production, resulting in the country not taking advantage of its excellence in manufacturing world class apparel for global markets.

The low tariff regime also encouraged dumping of cheap apparel, it was claimed.

"Stopping low-quality garments from being imported to the country was their main concern," Jayasekara told one of the meetings last month, adding that the country has a large number of manufacturers who produce for local use as well as export purposes, and that it is by strengthening them that local production can also be strengthened.

Jayasekara said that discussions have been held with President Gotabaya Rajapaksa to locally produce linen and towels for hotels in the country, which would create job opportunities and increase production.