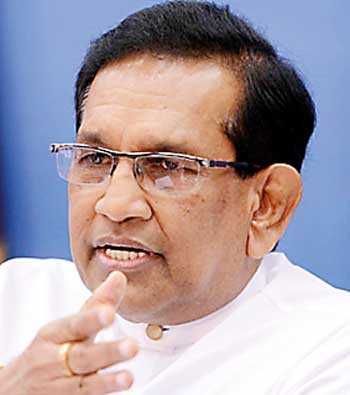 Cabinet spokesman says Cabinet paper on procuring equipment for terminal from Indian company not approved
By Nuwan Senarathna

The Government yesterday rejected reports of a disagreement between President Maithripala Sirisena and Prime Minister Ranil Wickremesinghe over possible Indian investment in the East Container Terminal of the Colombo Port.

"There were no argument between the President and the Prime Minister, they only discussed matters relating to obtain new cranes for the terminal," Cabinet co-spokesman Dr. Rajith Senaratne told reporters during the weekly post-Cabinet press briefing. He claimed that a Cabinet proposal on Indian investment for the East Container Terminal was not submitted by the Ports and Shipping Minister Mahinda Samarasinghe.



Cabinet Secretary S. Abeysinghe, subsequently releasing a statement, also rejected media reports over a dispute between the President and the Prime Minister, and said Sri Lanka remained committed to close relations with India.

Dr. Senaratne noted that a Cabinet proposal for the procurement of equipment from an Indian company for the terminal had been discussed, but it had not been approved by Cabinet. "We can't approve all the Cabinet proposals submitted by Ministers. As many as 108 Cabinet papers were submitted for the Cabinet meeting but only 43 proposals were approved by the Cabinet."

Dr. Senaratne noted that observations from the Ministry of Finance were not submitted regarding new cranes for the Eastern Container Terminal. The Cabinet proposal to obtain new cranes was postponed for another week. He point out that Ports and Shipping Minister Mahinda Samarasinghe informed the Cabinet that the Sri Lanka Port Authority had adequate funds to obtain the equipment.

"The President informed the Cabinet that he had a discussion with Indian Prime Minister Narendra Modi during the BIMSTEC summit held in Nepal last September, and explained Sri Lanka's position on the East Container Terminal to the Indian Prime Minister," he said.