Ministry likely to call meeting of all stakeholders next week
Growing call from Muslim community to reverse decision and adhere to WHO guidelines
Opp. Leader among those who have slammed Govt. for politicising the issue
---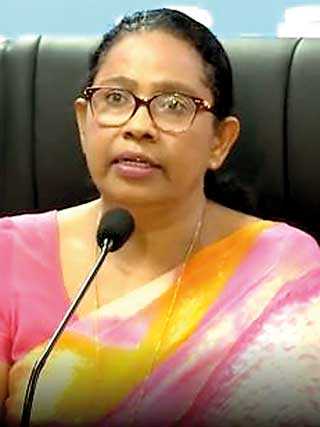 Health Minister Pavithra Wanniarachchi
---
Amidst growing concerns amongst members of the Muslim community, the Government has put off a meeting to reconsider an earlier decision which makes it mandatory for bodies of those who succumb to COVID-19 to be cremated.

Health Minister Pavithra Wanniarachchi told Parliament on Tuesday (3 November) that a committee appointed for this purpose would meet this week to take a decision, but no such meeting took place, the Daily FT learned.

A Health Ministry source stated that Wanniarachchi has said she would hold the meeting with all stakeholders soon to decide on the matter.

She told Parliament on Tuesday that the decision taken in March to only allow for cremation was based on the advice of medical experts when there was an unknown virus and there was a need to study it further.

Members of the Muslim community as well as several Middle Eastern and other nations are calling to reverse the decision and follow the World Health Organisation (WHO) guidelines that gives the option of both cremation and burial as methods of disposal of bodies of those who succumb to COVID-19.

Members of the community also said fears over forced cremation of those who succumb to COVID-19 is making some reluctant to seek treatment and instead, stay home even when seriously ill.

Opposition Leader Sajith Premadasa has also called for the Government to withdraw these regulations.

He accused the Government on Tuesday of making this a political tool targeting the Muslim community and creating a false notion that Muslims were responsible for the spread of COVID-19 to justify this decision.