Nearly 38,000 have returned, 20,000 more await
Govt. decides to lease hotels or accommodation units to set up as quarantine centres in each district
Labour Minister says first 8 quarantine centres to be opened in 2 weeks, all expenses of centres will be borne by Bureau of Foreign Employment
List of suitable buildings identified for the establishment of the expansion of quarantine centres forwarded to NOCPCO
---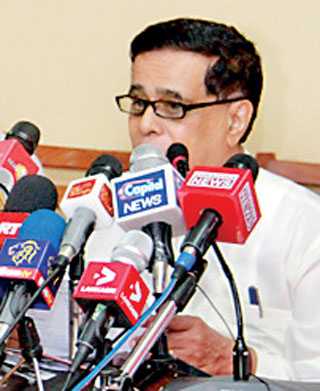 Labour Minister Nimal Siripala Silva
---
The Government this week assured fully-funded repatriation and quarantine for migrant workers keen to return home due to the COVID-19 pandemic whilst steps are underway to increase centres.

"Priority has been given and arrangements have been made to bring back and quarantine Sri Lankan workers that have completed their term of employment and are registered with the Bureau of Foreign Employment at the expense of the Government," Labour Minister Nimal Siripala Silva told journalists yesterday.

Nearly 38,000 Sri Lankan workers have now returned, whilst around 20,000 more are expected to be repatriated.

He said lack of space at quarantine centres is the key challenge in repatriating the employees.

To fast-track the repatriation of Sri Lankan employees, the Government has decided to lease out a hotel or an accommodation unit to set up quarantine centres in each district and the first eight quarantine centres will be opened within two weeks, the Minister said.

"As a first step, these centres will be set up in about eight districts, and we hope to expand it to other districts to expedite the repatriation of our employees," the Minister said.

Accordingly, the list of suitable buildings identified for the establishment of the expansion of quarantine centres has been forwarded to the National Operation Centre for Prevention of COVID-19 (NOCPCO) Head and Army Commander General Shavendra Silva.

The Minister also said that all the expenses of these centres will be borne by the Bureau of Foreign Employment.

With expectations that the regulations into Sri Lanka may be relaxed, de Silva said more migrant workers could be brought back to the motherland.

Labour Ministry Secretary Mapa Pathirana and Labour Department Commissioner General Prabhath Chandrakeerthi were also present at the media briefing.