The Government has mobilised grant and concessional loan assistance amounting to $ 50 million from the ADB to improve the efficiency, equity and responsiveness of the Primary Health Care system in Sri Lanka in line with the National Strategic Framework for Development of Health Services (2016-2025).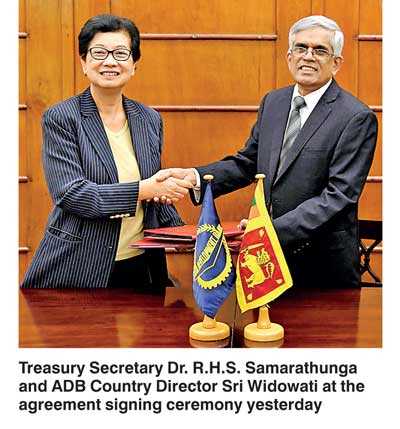 The proposed Health System Enhancement Project will be implemented in four provinces, namely Uva, Sabaragamuwa, Central and North Central, with geographically, socially and economically deprived populations.

The proposed ADB financing is comprised of a grant of $12.5 million and a concessional loan of $37.5 million. The total investment cost of the Project is $60 million and the Government's contribution to the project is $10 million.

The objective of the proposed project will be achieved through the following key outputs; (i) primary health care enhanced in the four provinces through rehabilitation of PHC facilities in district hospitals (DH) and primary medical care units (PMCUs), procurement of vehicles for the medical officers for supervision and outreach services and Increased public awareness and behaviour change to use primary health care, (ii) health and disease surveillance strengthened through adopting health information technology for continuity of care and Implementing of IHR recommendation, (iii) policy development, capacity building and project management supported.

In this connection,

Ministry of Finance and Mass Media Secretary Dr. R.H.S. Samarathunga on behalf of the Government of Sri Lanka and ADB Sri Lanka Resident Mission Country Director Sri Widowati on behalf of ADB signed the Loan Agreement and the Grant Agreement to obtain $37.5 million and a $12.5 million respectively on Friday at the Ministry of Finance and Mass Media.