Amends Gazette of Subjects and Functions
Program was not listed under any particular institution in earlier Gazette
Five Presidential Task Forces will function under this program as well as SLT, TRC and ICTA
Board of Investment and Port City Project also listed under this program
All ministries to coordinate and implement activities in relation to respective subject areas with Presidential Task Forces
National priorities include expanding digital governance via adoption of IT as a tool in the delivery of efficient and people-centric services
Installing international electronic commerce and international electronic payment systems
Introducing legal and institutional provisions for transforming Colombo City into an international, commercial, trading and financial centre
---
By Chandani Kirinde
---
President Gotabaya Rajapaksa has amended the Gazette of the Subjects and Functions assigned to Ministers and State Ministers and brought the National Priority Program under the Presidential Secretariat.

In the earlier Gazette issued on 9 August, the National Priority Program was not listed under any particular institute but in a new Gazette dated 25 September on the assignment of Subjects and Functions and Departments, State Corporations and Statutory Institutions to Ministers, this program has been listed under the Secretariat.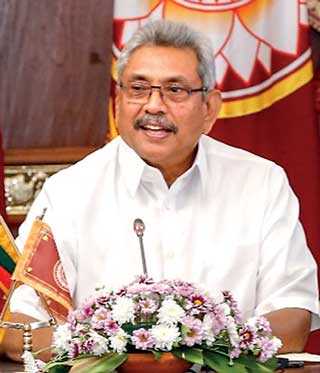 President Gotabaya Rajapaksa
---
The objective of the National Priority Program is to ensure the effective delivery of people-centric services through national and international electronic connectivity and co-ordination, thereby simplifying the process in the context of optimal information technology utilisation in all fields and providing guidance at national levels in strategic approaches in economic and social empowerment in order to create a secured country by eradicating poverty.
Institutions that will come under this program are the Telecommunication Regulatory Commission of Sri Lanka and allied institutions, Information and Communication Technology Agency and allied institutions, Sri Lanka Computer Emergency Readiness Team, Board of Investment of Sri Lanka, Colombo Port City Project, Sri Lanka Telecom and its subsidiaries and allied institutions and all Information Technology parks.

The others are the Presidential Task Force to Study and Provide Instructions on Measures to be Taken by All Armed Forces to Prevent Coronavirus Infection Among Members of the Tri-Forces, Presidential Task Force to build a Secure Country, Disciplined, Virtuous and Lawful Society, COVID-19 Ministerial Task Force, Presidential Task Force for Archaeological Heritage Management in the Eastern Province, Presidential Task Force on Sri Lanka's Education Affairs, and Presidential Task Force for Economic Revival and Poverty Alleviation.

All ministries are required to coordinate and implement activities in relation to subject areas of all ministries with the Task Forces for National Security, Preventing the Risk of the Spread of COVID-19 Pandemic, Eliminating Drugs, Archaeological Conservation, Education Reforms, Eradicating Poverty and Economic Revival.

The listed national priorities include expanding digital governance by adoption of information technology as a tool in the delivery of efficient and people-centric services and exchange of knowledge, simplifying governance mechanism and market process, installing international electronic commerce and international electronic payment systems, formulating new laws and institutional structures for data security, cyber security, intellectual property rights and introducing legal and institutional provisions for transforming Colombo City into an international, commercial, trading and financial centre.

Its other objectives are expanding local and foreign investment facilities for export and import substitute productions benefiting all parties, thereby eradicating poverty through the national development program spelt out in the President's policy statement 'Vistas of Prosperity and Splendour' and expanding other development centres required for overall national economic development by developing Colombo, Hambantota, Jaffna and Trincomalee as multifaceted national and international centres and Kandy, Anuradhapura, Gampaha, Ratnapura, Galle, Badulla, Mannar, Batticaloa and Kurunegala as national centres.