CA dismisses both writ and revision applications citing lack of jurisdiction
Gota's first trial for misappropriation of state funds begins today
Ex-Defence Secretary is first accused in D.A. Rajapaksa case
By S.S. Selvanayagam

The Court of Appeal yesterday, dismissed two petitions filed by Gotabaya Rajapaksa, clearing the way for the D.A. Rajapaksa museum trial to begin at the Permanent High Court at Bar today.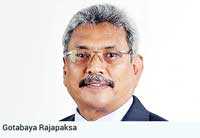 Both applications by Gotabaya Rajapaksa's lawyers were seen as last ditch efforts to move the superior courts to forestall his trial at the Permanent High Court, where he is accused of misappropriating state funds from the Land Reclamation and Development Board to the tune of Rs. 33 million, to build a monument to his deceased parents in Medamulana, Hambantota.

The former Defence Secretary is the first accused in that case, with trial set to begin today.

In March this year, Rajapaksa filed a Writ Certiorari challenging an order made by the Permanent High Court which rejected preliminary objections raised by his lawyers in the D.A. Rajapaksa case. Lawyers for the former Defence Secretary also filed a separate revision application at the CA, seeking to overturn the same order by the Permanent High Court.

Both cases, taken up by the same bench of the Court of Appeal which included Justices Achala Wengappuli and Arjuna Obeysekere, were dismissed citing a lack of jurisdiction.

In its order dismissing Rajapaksa's petitions, the Court took cognisance of the fact that the Permanent High Court of Bar was not a court of first instance, and as such under Article 140 of the Constitution, appeals against orders made by such courts may only be heard and determined by the Supreme Court.

In an unprecedented move, Gotabaya Rajapaksa cited sitting judges of the Permanent High Court Trial-at-Bar Sampath Abhayakoon (President), Sampath Wijeratne and Champa Janaki Rajaratne by name as well as the Attorney General as Respondents in his petitions.

Romesh de Silva PC with Ali Shabry PC, Sugath Caldera, Ruwantha Cooray and Harith de Mel instructed by Sanath Wijeyawardane appeared for the Petitioner.

Senior Deputy Solicitor General Milinda Gunatilleke and Deputy Solicitor General Dileep Peiris, Senior State Counsel Wasantha Perera and State Counsel Udara Karunatilake appeared for the Attorney General.

A petition against the Permanent High Court's order rejecting Rajapaksa's preliminary objections has also been filed at the Supreme Court.

Gotabaya Rajapaksa is still overseas on medical leave obtained from the Permanent High Court, where he was indicted, after needing treatment for a heart ailment. He is yet to enter a plea in the D.A. Rajapaksa case.