By Nisthar Cassim
Germany is stepping up its economic engagement with Sri Lanka via a spate of bilateral initiatives whilst calling for greater liberalisation and reforms to spur more investments and trade.

German Ambassador Joern Rohde this week will be attending in Germany the Sri Lanka-German Business Roundtable which the Ambassador said has expanded considerably in the past few years especially after the change of Government in January 2015.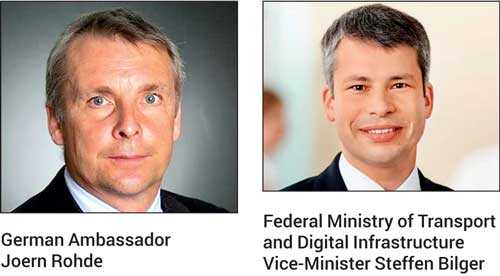 Later this week German's Federal Ministry of Transport and Digital Infrastructure Vice-Minister Steffen Bilger will visit Sri Lanka for bilateral talks including with his Sri Lankan counterparts. He will attend the 'German-Sri Lankan Logistic Conference 2019' at The Kingsbury Colombo on 29 August from 9.00 a.m. to 4.00 p.m.

The main objective of this conference organised by the Delegation of German Industry and Commerce in Sri Lanka, would be to build up the bilateral connection between the two countries in the logistic sector.

"This is why Germany has been calling for greater liberalisation in the logistics, shipping and maritime sector of Sri Lanka," the Ambassador stressed. This, he added, will spur more foreign investments in to the sector.In June a top Sri Lankan delegation from the shipping sector visited Germany to attend a logistics exhibition.

Furthermore Germany is further deepening its engagement in Sri Lanka with a showcase of top German brands event in mid-September.

"I am keen to ensure German-Sri Lanka ties reach its full potential," the Ambassador Rohde reiterated.

Noting that bilateral trade is on the rise with about 10% growth year on year, he said that the main issues remain in terms of fast tracking German investments in Sri Lanka as well as accelerating imports from Germany.

The Ambassador said political stability and reforms will help boost German investments into Sri Lanka though due to the election cycle economic sentiment remains muted.

Going forward on the economic side, what Sri Lanka needs is greater liberalisation and opening up, especially in the shipping and logistics sector. This is something I have often reiterated. Reduction in tariff is also important along with more free trade agreements.

"The Board of Investment (BOI) also needs to reduce the minimum investment requirements which in certain cases don't make business sense. For example in the retail and bonded warehouse segment, minimum investment is $ 5 million and this limit discourages the SMEs in overseas countries who are the backbone and may consider setting up operations in Sri Lanka," Ambassador Rohde emphasised.

"These are important steps if Sri Lanka wants to realise its aspirations to be a competitive maritime and shipping hub in the region," he added.

The Ambassador also opined that more transparent tender procedure is another prerequisite for greater confidence on the part of foreign companies. "This will also help Sri Lanka improve on the Ease of Doing Business Index," he said, adding that Sri Lanka can be the Singapore of South Asia given its strategic geographic location but this requires the right liberal policies.