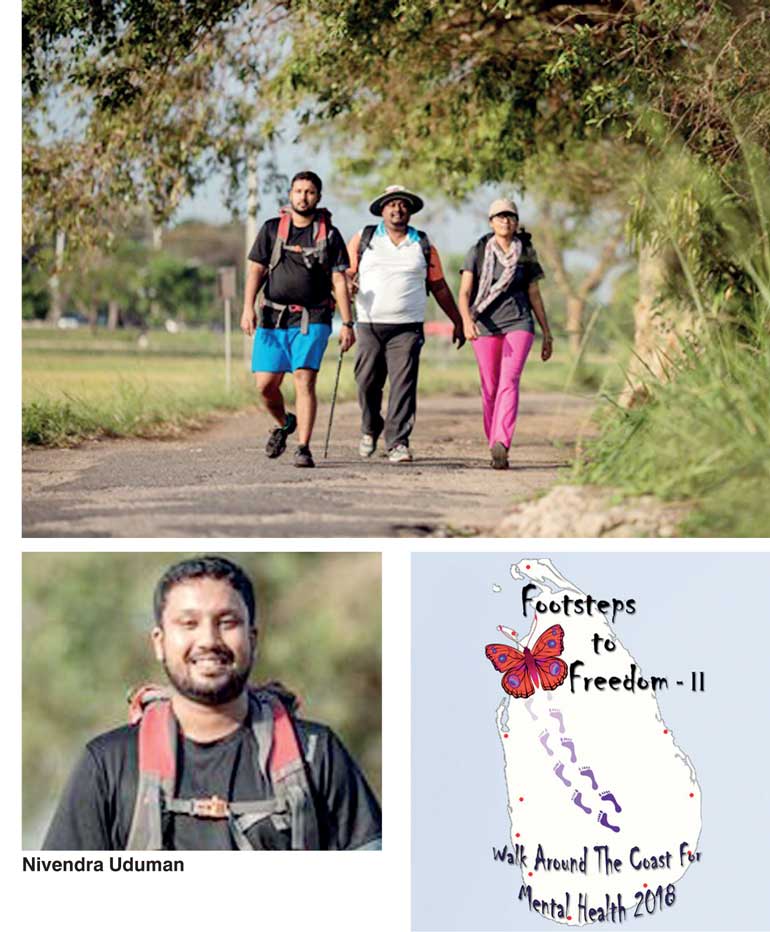 By Shanika Sriyananda

It will be a walk round the country via the coastal belt. Named as the 'Footsteps to Freedom', it is a walk to raise awareness on mental health and prevention of suicides.

Three individuals led by a counselling psychologist Nivendra Uduman will walk for two months making people aware of the importance of mental well being for a sound living.

"I want this walk to be a stepping stone for more action we can take as a country to reduce suicide rates and promote physical and psychological well-being. I want this walk to be a voice, for everyone in Sri Lanka. A voice, that needs to be heard by people who make decisions and who govern our country," he told the Daily FT in an interview.

Following are the excerpts of the interview:


Q: Can you explain what 'Footsteps to Freedom' is?

A: 'Footsteps to Freedom' is a dream in motion that was created to see Sri Lanka through a different lens and to infuse what I am passionate about, which is mental health and suicide prevention. I am launching the second phase of this initiative where myself and two others – Sara Nazoor who is a trainee psychologist and Ranil Thilakaratne from the CCC line 1333 – will be walking around the entire coastal line of Sri Lanka focusing mainly on suicide prevention and creating awareness about mental health


Q: As a seasoned mental health practitioner, how do you see the situation with regard to mental health in Sri Lanka?

A: It shows certain improvements in the past five-six years, with both government and non-governmental organisations contributing towards the well-being of our people. There are more counselling services available at least in the metropolis and more hospitals around the island have mental health units available where people can access support. However, there is still a great deal of stigma and shame surrounding mental health problems and we do not have enough conversations about it. There are very few spaces in our community where people can feel safe and talk without judgement.

There is a need for community based mental health and psychosocial services, where people can feel free and comfortable. Mental health also needs to be included in the school curriculum, university education and even in the workplace. It belongs everywhere, because we are all vulnerable as human beings. Priority needs to be given to our physical and emotional well-being and that is something we as a country need to work towards. People around the country including children and young people are developing mental health problems due to stress, poor coping ability, poor problem-solving skills and the lack of awareness and education on how to prevent mental health issues. Our changing lifestyles also have a role to play.


Q: What are we lacking in to have improved mental health among people?

A: Primarily, we lack professionals in the mental health field to help people who may require support. There are nearly 30 registered clinical psychologists in the country, and a few others from different disciplines of psychology who are not granted access to registration with the Sri Lanka Medical Council. There are approximately 100-120 psychiatrists in the country and by looking at the numbers we know that this is not sufficient.

Not everyone has access to mental health professionals, and there is a lack of services in areas outside of the metropolis. The priority given to psychological well-being by the government and the health services is also questionable, beginning from the budget allocation for mental health. There needs to be more attempts at educating the public and not merely prescribing medication when people present with problems. An example would be the recent medical exhibition that took place at the BMICH. There was an obvious lack of interest in mental health by the organisers because there was not a single stall about mental health or mental health services.

This says a great deal about how this is looked at not just by the common man, but by the government, policy makers, decision makers and also medical professionals who are supposed to be responsible for the well-being of our nation. This needs to change to have any improvement in the level of well-being in our people. There is a serious need for collaboration between the state and the non-state sectors. We also need to bring in areas like economics, social welfare, etc. into the conversation.

Focusing on mental health and well-being alone is not going to solve our problems. Another important aspect is education. There needs to be increased efforts at educating the public, and this needs to start at school. We need to open up, talk, come out of the shadows, and shatter the stigma, together to see any improvement in the mental health and well-being of our people. We need to work together.


Q: When talking about suicides, what are your findings and what are the main causes for one taking his or her life?

A: Suicide is a complex public health concern with many layers beneath it. It is not a simple, straight forward problem with one solution. There are many factors involved and not just mental health or the lack of it in Sri Lanka.

There is a tendency to think about only mental illness when talking about suicide, but we need to get out of that loop and start thinking in a more holistic manner. Sri Lanka has had a difficult history with a 30-year civil war, frequent natural disasters, civil unrest, etc. and these factors are also contributors to the occurring of suicides. We also need to consider economic and social factors when talking about suicide.

There are increasing economic problems in Sri Lanka, especially after the war due to most households at least in the North and East being single households. Food, shelter, safety and security are still concerns for people not only in war torn areas, but even in Colombo. There are children and young people I work with who are neglected by their families and communities. They sometimes do not have enough to eat, or proper housing.

Substance abuse, child labour, domestic violence, etc. are all very common occurrences. School drop-outs are a problem and very little is done by the schools or families to make sure children attend school. Hence, it is so important to know that suicide does not just happen in poor communities, or distant geographical areas. It happens close to home, under our noses, and the fact that we record 8-10 deaths by suicide everyday says a great deal about how all these factors have affected us as a nation. It is difficult to pinpoint one cause for suicide.

There are so many interlinked factors including social isolation, loneliness, unemployment, mental health problems, poverty, discrimination and ostracisation, chronic illness and so much more. There is no one reason for a person to take his/her life. It is a complex mixture of factors involved.


Q: Number of suicides has increased recently. What are the lapses in suicide prevention? What needs to be done more by all segments of the society?

A: The number of deaths by suicide had drastically reduced since 1995/6 where we had the world's highest suicide rate. This is mainly due to the banning of several lethal pesticides, improved pre-hospital care and transportation. Lives are being saved, but suicide attempts keep increasing every day.

This is a cause for concern and to put it very bluntly, there is very little work being done to work towards suicide prevention. There is no organised structure to the work done, and state and non-state stakeholders often do one off campaigns with little impact. We need a sustained effort, a good plan and dedicated and committed people. Suicide prevention needs to be the responsibility of the community and not just 'professionals'.

Communities can be educated through gatekeeper training where they learn how to recognise warning signs and support someone until professional support is sort. Suicide needs to be spoken about in school. Children and young people need to know that it is okay to talk about it. It needs to be brought out from under the carpet. Life skills need to be focused on and not just making salads and sandwiches in the school life skills class.

Problem solving skills, conflict resolution skills, coping with failure, coping with rejection, coping with loss, managing stress, managing interpersonal relationships, and most importantly, self-awareness need to be included in lesson planning. I firmly believe that this can lead to a reduction in suicidal behaviour. There is so much work to do, and focusing on what's already strong can help without focusing too much on what's wrong.


Q: Earlier you did a similar event to raise public awareness; can you share your experience?

A: Footsteps to Freedom – a walk across Sri Lanka to raise awareness on mental health was a 44-day walk covering 550 km from Dondra to Point Pedro. It began on 18 August 2016 and ended on 31 September 2016. Awareness sessions were done for the civil population and the military and they were conducted at military camps, schools, post offices, tea shops, etc. Most of the sessions were spontaneous and unplanned. The walk was a tremendous success because I believe I may have contributed towards saving one valuable human life. This is how I measure success.


Q: This time it is a two-month-long journey; what do you expect at the end?

A: Again, I expect at least one life to be saved through this journey. It will be a life changing and mind shifting journey, with a great deal of challenges, and of course insurmountable joy. I want this walk to be a stepping stone for more action we can take as a country to reduce suicide rates and promote physical and psychological well-being. I want this walk to be a voice, for everyone in Sri Lanka. A voice, that needs to be heard by people who make decisions and who govern our country.

The weight we will be carrying on our backs, the 20 km or more that we will be walking every day, the blistering heat, and two months away from family, friends and work – it is all for something larger than ourselves. We love our country, and its people. Hence, this walk is for our people, for our country. We want the best for Sri Lanka; we want it to prosper in all aspects. I hope to carry with me stories from the walk, to the authorities and inspire them to take action. Who knows, maybe I'll even write a book.


Q: Why did you select the coastal belt for this awareness campaign? Who is your main target group?

A: The coastal belt is often a neglected portion of our country and information is not easily accessible in those areas. I chose the coastal belt as it is more challenging, and mainly because it allows my fellow walkers and me to meet more people from different ethnicities and religions, and this would be a great way to reach more people to give out the message we want to give through the walk. The three of us are from a diverse ethnic background and we represent almost all ethnicities found in Sri Lanka. This is also a very important aspect of the walk. My target group mainly is the civil population this time around and this time we are a trilingual group, so this makes the walk more meaningful. So, ahead we go, and we would like to invite our fellow Sri Lankans to join us in this amazing journey.