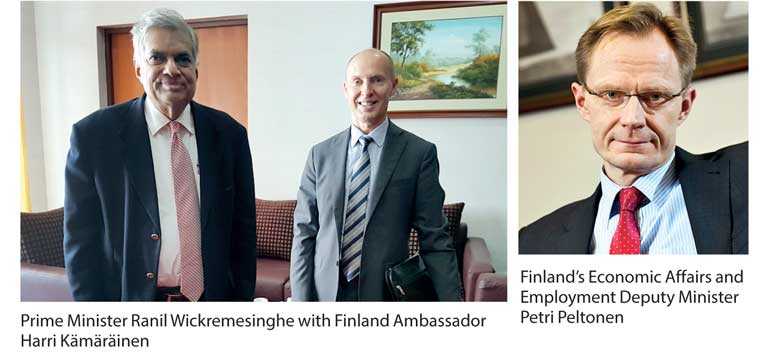 Deputy Minister of Economic Affairs and Employment-led top public-private sector delegation in town
To sign three MoUs with Govt. on health, vocational education and training in secondary education and digitalisation
Three deals between private sector firms
Sri Lanka-Finland ties will get a big boost this week with a top delegation from Helsinki in town committed to extending expertise on the key areas of health, education and digitilisation as well as forging private sector partnerships.

Finland's Economic Affairs and Employment Deputy Minister Petri Peltonen arrived yesterday along with leading public and private sector representatives on a three-day visit.

Sources told the Daily FT that during the visit there would be several Government-to-Government Memo-randa of Understanding signed whilst the private sector too will ink key mutually beneficial partnerships. The delegation includes world-famous Finnish brand Nokia which has made a strong comeback.

Ahead of the visit, Finland Ambassador Harri Kämäräinen called on Prime Minister Ranil Wickremesinghe on Friday (8) to update him on the upcoming visit.

The Prime Minister was happy to note the increased cooperation and was keen to build further on the well-established connections with Finland and other Nordic countries.

During the visit, a MoU between the Ministry of Health, Nutrition and Indigenous Medicine of Sri Lanka and the Ministry of Social Affairs and Health of Finland concerning cooperation in the field of health will be signed.

Additionally, another MoU between the Ministry of Education of Sri Lanka and the Ministry of Education and Culture of Finland in the field of vocational education and training in secondary education will be signed.

The two countries will also sign an MoU between the Ministry of Transport and Communications of Finland and the Ministry of Telecommunication, Digital Infrastructure and Foreign Employment of Sri Lanka concerning cooperation in the areas of digitalisation.

The three Finnish private sector companies that will sign partnerships with their Lankan counterparts are Wartsila Corporation, Mediconsult and Eduexcellence.

The list of companies in the business delegation are Arctic Security OY, AW Energy, Cumucore OY, Digi Toilet Systems OY, Ductor Corporation, EduExcellence OY Ltd, Finntrepo Ltd, Finnvera Plc, Fortum OYJ, Image Soft OY, Mediconsult OY, Nokia, Savox Communications OY, Soil Scout Ltd, Wartsila Corporation, Criticon and Iceye.