Better awareness, resources and monitoring needed to encourage women to be candidates say experts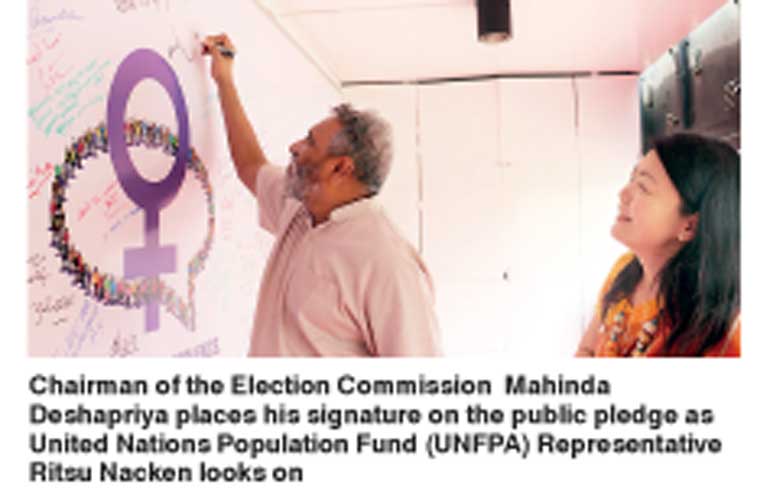 By Uditha Jayasinghe

Efforts to increase female political participation in Sri Lanka need to be supported by efforts to combat gender-based violence, especially during campaigning, top officials said yesterday.

Even though 52% of Sri Lanka's population is female, the country has had low female political representation for decades, with only 5.3% of women currently in Parliament. The number drops to as low as 1.9% at the local government level, which the Government is attempting to change by making it mandatory for all political parties to have 25% of women making up their candidates lists.

But this move has to be supported by many other measures such as protecting women against character assassination and providing them with a secure environment to campaign in, said National Committee on Women Chairperson Swarna Sumanasekera.

"We still come across instances where women vote according to what their husbands tell them. Many women are very concerned about character assassination during campaigning, especially through social media, and this is a major reason why women are reluctant to come forward. There should be a mechanism to monitor and report on gender-based violence directed at women candidates during elections," she said.
Speaking at the launch of the 16 Days of Activism Against Gender Based Violence campaign's 'Elect Her. End Violence' on Friday experts, including United Nations Population Fund (UNFPA) Representative Ritsu Nacken and Elections Commission Deputy Commissioner Samantha Jayasinghe, agreed that more needed to be done to empower potential female candidates. Jayasinghe said the Elections Commission was working with political parties to promote transparent selection of highly qualified women so that women's representation at the Local Government level would improve.

"Evidence from around the world has shown that when female participation increases issues that matter to women come to the table more often. This has been seen in countries like South Africa and Rwanda where female representation is very high," Nacken told the forum.

Police spokesman DIG Priyantha Jayakody acknowledged that the current law and a lack of resources limited the ability to protect female candidates from mudslinging campaigns online but stressed that the police was hyper vigilant during election time to intervene and protect candidates. He also recalled an incident in 2000 when local political thugs in Wariyapola stripped a female candidate and forced her to walk naked at gunpoint. Referring to the horrific situation as one the worst cases of election abuses he had encountered during his 35-year career, Jayakody conceded greater vigilance was necessary for women politicians.

"Women constables are available at all 488 police stations countrywide and we are working to increase these numbers. If female candidates are facing issues they can complain to the police who will take action. Unfortunately there is a cultural bias against women coming to the police but I want to assure you that the police are evolving and action will be taken," he said.