Most extensive national study to formulate business-led proposals for the resurgence of the national economy
Web-based trilingual study to be conducted until 9 August and open to registered businesses of any scale from recent startups to mature conglomerate companies
The Federation of Chamber of Commerce and Industry of Sri Lanka (FCCISL) has entered into a
FCCISL Director and member of the Strategic Committee Ruwan de Silva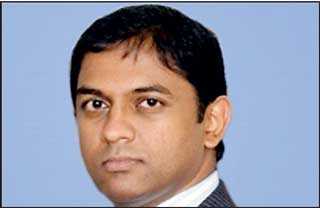 PwC Sri Lanka Head of Strategy Consulting Lasanga Abeysuriya
strategic collaboration with PwC Sri Lanka (PwC), with an aim to take a proactive role in supporting the faster recovery and stronger growth of the economy. With the COVID-19 pandemic exacerbating an already sluggish domestic economy, FCCISL – along with its affiliated sectoral representatives – aim to take a lead to drive policy dialogue and campaign for domestic and international support to fast track the recovery and growth across key local business sectors. By combining FCCISL's envious representation from diverse businesses of all scales and industries spread throughout the country with PwC's multi-disciplinary expertise and deep understanding of trends and practices shaping future industries, the two parties aim to champion the cause to enable local businesses, including the critically important SME sector, spearhead Sri Lanka's economic resurgence.

Re-enforcing its championing role to support local businesses, FCCISL together with PwC launched an island-wide, multi-sector business resurgence study (PwC-FCCISL Business Resurgence Study), one of the largest of its kind to be conducted in Sri Lanka.

The study will lay the foundation to pursue necessary action in five key areas:

(a) Obtain a latest appreciation of the aspirations and ambitions of businesses in order to design suitable business acceleration programs

(b) Formulate data backed proposals and recommendations for relevant stakeholders to address key policy matters and marketplace challenges stifling the growth of local industry and commerce

(c) Promote new business opportunities and cross-industry collaboration

(d) Design roadmaps for the improvement of industry capability and competitiveness, and

(e) Campaign to secure financial and technical assistance from local and international development assistance and trade support organisations.

PwC Sri Lanka will act as the knowledge partner and facilitator for the above initiative and bring together its extensive experience of working with the private sector, multilateral and international development agencies as well as public sector and policymakers in order to explore relevant and practical solutions within the study areas.

Speaking of the initiative, FCCISL Director and member of the Strategic Committee Ruwan de Silva said: "The private sector has been the driving force of the local economy for many years and more than ever must come together now to work with the Government to address some of the lingering issues, as well as overcome new challenges following the COVID-19 pandemic."

"As a representative for businesses from all industries and scale, the FCCISL aims to develop the most comprehensive industry-backed proposals and submissions to help local businesses manage and improve resilience to overcome the current uncertainty, improve competitiveness, develop trade and facilitate export market access," he said.

"The FCCISL will be using the findings from this study to plan out a series of on-going initiatives to support local business on key areas for recovery and growth. Our collaboration with PwC opens a new dimension to the manner in which we want to take an active role to support the growth of local industry and economy," de Silva added.

PwC Sri Lanka Head of Strategy Consulting Lasanga Abeysuriya said: "We need to come up with sustainable solutions to re-emerge stronger from the unprecedented challenges caused by the global pandemic. The current uncertainty has also provided Sri Lankans a unique opportunity to re-imagine the possibilities for the country's future and make bold and progressive decisions to improve the local business climate and industry competitiveness.

"Sri Lanka has businesses that have achieved global success despite the many challenges faced at home. Through this study, if we can make progress towards addressing some of the lingering pain points as well as more recent challenges, the ingenuity of Sri Lankan people coupled with high quality FDIs into targeted sectors can truly transform the profile of local businesses and the broader economy."

The web-based trilingual study is to be conducted during the months of July-August and is open to registered businesses of any scale from recent startups to mature conglomerate companies. The study will comprise of four main sections in an easy to complete format. The sections will cover (a) business background including information on the markets served and supply chains used; (b) company background including operating locations, scale, workforce size and composition; (c) COVID-19 impact on business strategy and operations along with actions taken to date to cope with the impact; and (d) expectations about returning to level of stability and certainty along with opportunities for business improvement, revised strategic priorities and short-medium term assistance and recommendations to help recovery and growth efforts.

"Unlike various studies carried out to mainly to assess the COVID-19 impact on local businesses, the PwC-FCCISL Business Resurgence Study is more future-oriented with the main purpose being to generate business led proposals to overcome key challenges across various industry segments. A key aspect of the study is to also highlight individual industry requirements with additional considerations influenced by geographical region or scale of operations," Abeysuriya said, speaking of the study.

Parties representing local businesses are encouraged and invited to participate in the PwC-FCCISL Business Resurgence Study to share views and experiences that can help design comprehensive industry support programs. To participate, the access link to the study can be found on the home web-page of FCCISL (www.fccisl.lk) and the media partner websites. The closing date for participation in the study is 9 August.