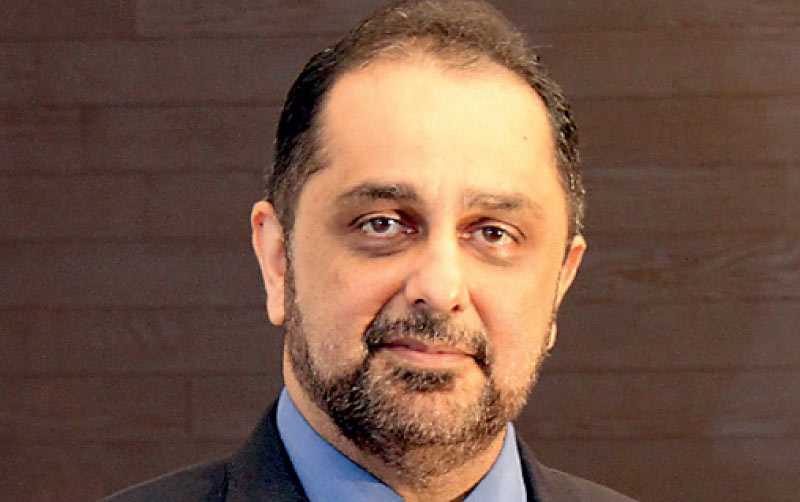 Expolanka Holdings Director and CEO Hanif Yusoof
---
Several in top 20 up stake, reinforcing confidence as extraordinary performance at company and stock price level draw over 4,300 new shareholders
Core business logistics propel Expolanka to likely top 3 in terms of profits in FY21
Rebounds from Rs. 438 m loss in FY20 to post Rs. 14.8 b net profit and Rs. 16.6 b pre-tax profit
Group revenue soars 218% to Rs. 75.5 b in FY21
---
Expolanka Holdings PLC has seen a substantial 46.5% increase in the number of shareholders by end FY2021 from a year earlier in tandem with improving fortunes for the logistics-rich conglomer- ate and its share price.
The public shareholder base has increased by 4,316 to 13,592 during FY ending 31 March 2021 whilst the public float has improved to 16.5% from 16.3%.
During FY2021, Expolanka's public float adjusted market capitalisation has increased by 56% to Rs. 14.4 billion from Rs. 9.2 billion. As of Friday, the overall market capitali- sation amounted to Rs. 91.3 billion accounting for 3% of CSE's total.
In FY 2021 Expolanka share price touched a high of Rs. 64.60 and a low of Rs. 29.20 before closing at Rs. 44.70 as against Rs. 5.10, Rs. 1.80 and Rs. 2, respectively, in FY20. Despite record financial results Expolanka during Friday's shortened trading at the CSE it closed at Rs. 46.70 down 2.3% prompting many enthusiasts to claim the stock remains an under-per- former. Based on 3Q results, some brokers forecast a tar- get price of over Rs. 60 for Expolanka.
Existing investors have reinforced confidence in Expolanka by enhancing their stakes. As at 31 March 2021, among those who have done so are third largest shareholder F. Kassim (from 1.02% to 1.20%), Nuwara Eliya Property Developers (0.03% to 0.38%), Dr. T. Senthilverl (0.05% to 0.32%), G. Ramanan (0.07% to 0.28%), Hi Line Trading (0.01% to 0.19%), G.S.N. Peiris (0.10% to 0.19%), and Capital Trust (0.03% to 0.15%).
Japan's SG Holdings holds control of Expolanka with 75.6% stake whilst its Co-Founder and longstanding CEO Hanif Yusoof owns 7.52%.
Among new shareholders figured in top 20 are Sri Lanka Insurance Corporation Life fund (0.24%), D. J.D. Alexander (0.12%), and Sashimaal R. Fernando (0.11%). On Friday, Expolanka announced exponential performance for the just-ended FY21 with a hefty net profit of Rs. 14.8 billion as opposed to a loss of Rs. 438 million in the previous year, with the COVID-19 pandemic triggering a windfall for the logistics business.
First conglomerate to announce full-year inter- im results, Expolanka's profit figure is likely to be within the top three by a non-banking institution.
The Group delivered a revenue of Rs. 75.5 billion, up 218% from FY20 with a gross profit of Rs. 11.9 billion and a Profit After Tax of Rs. 4 billion for the quarter as against a loss of Rs. 333 million a year earlier.
The impressive 4Q performance enabled the Group to generate an annual revenue of Rs. 218.7 billion (up 111.8%), gross profit of Rs. 38.4 billion and a Profit After Tax of Rs. 14.8 billion. In FY20, Expolanka suffered a Rs. 438 million loss.
Logistics business delivered Rs. 216.3 billion revenue up 119% whilst its Pre-Tax Profit was Rs. 17.6 billion up by 2,870%. Post-Tax Profit was Rs. 16 billion as against a loss of Rs. 90 million inFY20.
Leisure sector reported a loss of Rs. 247 mil- lion as against Pre-Tax Profit of Rs. 140 million whilst the investment sector saw its loss increase to Rs. 822.6 million from Rs. 454 million.
Group CEO and Director Hanif Yusoof admit- ted Expolanka Holdings was able to conclude an exceptional year where "we have not only been able to successfully overcome the chal- lenges posed by the global pandemic, but also strengthen our position as a reliable, dependable, and customer-centric global logistics company".
He said the hallmark of Expolanka's success has remained its focused and consistent strategy aided by a disciplined approach to execution, which has enabled the Group to perform and transform during the year.
"The extraordinary results we achieved this year has been in the backdrop of an extremely dynamic operating environment which has been impacted by reduced capacity, elevated rates and weak global trade. This resulted in our strategy being put to the test, and our resilient, steadfast and strong response enabled us to achieve out- standing results during the year," Yusoof said in a note accompanying interim accounts.
"Our holistic and integrated approach in cus- tomer centricity, expanding our service portfolio, strengthening origin performance, consolidating the procurement function, and investing in tech- nology remained the cornerstone of our strategic response," the Group CEO/Director added.
Yusoof said Expolanka continued its unrelent- ing focus on sales which enabled the company to see volumes from existing customers and new customers whilst yields continued to remain stable in the face of elevated freight rates, and proactive strategies adopted by origins ensured service delivery to customers in the most effi- cient manner. A cohesive effort spanning the entire organi- sation, with strong contributions from all origins, underpinned the initiatives led by the sales and procurement teams, he added.
According to Expolanka, the airfreight market remained disrupted with elevated freight rates contributing towards higher yields.
Ocean Freight market too remained very dynamic with port congestions and reduced contain- ers resulting in relatively higher rates.
"Despite lower capacity and higher rates, EFL was able to leverage its long-term carrier partnerships, supported by proactive pro- curement strategies, enabling the company to secure healthy profitability during the quar- ter," he added.
The airfreight portfolio continued to be the largest contributor of profitability for the sec- tor, whilst the Ocean freight segment contin- ued to build on its strong progress during the year. Business continued to be driven by the North America trade lane which saw renewed growth amidst positive and improved market sentiments.
During 2020 Expolanka saw its Group assets rise to Rs. 68.18 billion from Rs. 36 billion. Net asset per share to Rs. 13.89 from Rs. 6.47 at the Group level whilst at company level, it improved to Rs. 2.33 from Rs. 2.12