French Envoy meets MR
Says Hambantota strategically located at heart of global traffic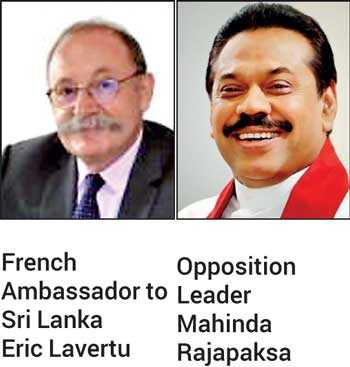 French Ambassador to Sri Lanka Eric Lavertu yesterday said investors from France have shown keen interest in investments related to the Hambantota port and the plantation sector.

The French Ambassador expressed these views during a meeting held at Opposition Leader Mahinda Rajapaksa's residence in Colombo.

In a statement, Opposition Leader's office said the Ambassador thanked the Opposition Leader for his presence at the French National Day during the previous week.

The Ambassador stated that there are many investment opportunities in Sri Lanka, if the political and economic policies provide more stability to create an environment conducive to attract foreign investors, the statement said.

He also stated that investors from France show keen interest in investments related to the Hambantota Port and the plantation sector.

The statement said the Ambassador highlighted the importance of the Hambantota Port and it is strategically located at the heart of global traffic, by default making it a great opportunity for any investor.

During the meeting Rajapaksa voiced his agreement to the statement by the Ambassador regarding the Hambantota Port and further went on to state that the taxation policies would also need to be revisited by a future government in order to make it investment friendly.

However, Rajapaksa earlier this year had expressed his displeasure for setting up an oil refinery in Hambantota raising concerns over impact for environment.