Julius & Creasy's Dr. Swaminathan to lead IPACSL
Seven members named to IPACSL as Govt. aims to complete Madrid entry process in 2018
Lawyers, environmentalist and professor among new members
Rs. 100 million allocated to Madrid entry that gives Sri Lankan brands single filing access
Sri Lanka has appointed an eminent legal personality and time-honoured expert in the field of intellectual property to lead the country's historic accession to the international trademark system called the Madrid Protocol, which is expected to be completed by August next year, the Industry and Commerce Ministry said in a statement.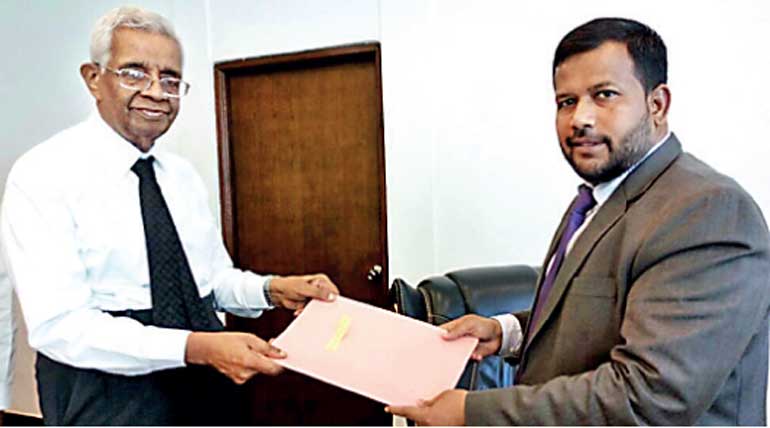 Industry and Commerce Minister Rishad Bathiudeen hands over the appointment letter to Dr. J.M. Swaminathan to head IPACSL



The Intellectual Property Advisory Commission of Sri Lanka (IPACSL) is the guiding mechanism advising the National Intellectual Property Office under the Minister of Industry and Commerce on matters of intellectual property and patents and their future direction.


Industry and Commerce Minister Rishad Bathiudeen made the appointments on 18 August as per Section 162 of the Intellectual Property Act No. 36 of 2003 which stipulates "the Minister may constitute an Advisory Commission for the purpose of advising him in relation to the law relating to Copyright, Industrial Designs, Marks, Patents, and unfair competition and any other area or subject of intellectual property.


"We thank you for your contribution to the development of our intellectual property. You bring a wealth of expertise to Sri Lanka's intellectual property domain," said Minister Bathiudeen.


"I direct you to focus on clearing any pending backlogs, fast-tracking the Madrid Convention and amendments to copyright laws so that our entire IP gathers speed for development. We shall achieve Madrid by August 2018 if things go according to plan. The Government aims to develop our knowledge economy and also exports to greater levels and IP plays a key role in it."


Dr. Swaminathan, a longstanding advisor of IPACSL, was a former Chairperson from 1989-90, functioning under the then Trade and Shipping Minster R. Mansoor. Dr Swaminathan holds an LLB (Ceylon), LLM, M. Phil. (Colombo) and LLD (Honoris Causa) degrees and is an Attorney-at-Law who has been in the legal profession for over 50 years. He is the Precedent Partner of Julius & Creasy and is a Member of the Law Commission of Sri Lanka and former Member of the Council of Legal Education.


"We will render our best efforts to clear all pending backlogs and upgrade the present legal framework on par with international standards. Especially, my priority is to prepare our National Intellectual Property Office (NIPO) and make it more efficient towards the adoption of the Madrid Standards in a year's time. Earlier we planned to achieve this by the end of this year but due to a heavy load at NIPO, we are calling for a little more time.


"Our Trademark Application processing will be speeded up. In that, my immediate focus is to ensure that Sri Lanka will implement the Madrid Convention at its earliest possible opportunity. We are also focusing on amending the copyright laws so that the latest digital property rights and laws are integrated. Sri Lanka's digital property changes will be along the lines of the most modern digital laws in the world at this moment; the European Commission that is."


The other appointed members were Suganthi Wijayasuriya-Kadirgamar (Senior Partner F. J. & G. de Saram), Dr. Nishantha Sampath Punchihewa (Senior Lecturer in Law-Colombo University), Tilak Kariyawasam (Chairman and Executive Director of Sri Lanka Nature Group), Prof. Ajith P de Alwis (Moratuwa University) and Lakshan Algama Perera (Representative of Exporters Association of Sri Lanka) while Geethanjali Ranawaka (Director-General of Intellectual Property) becomes the ex-officio member.

Previously on 27 April, Minister Bathiudeen announced that Rs. 100 million has been allocated by his ministry for work on Sri Lanka's accession to the Madrid Protocol. "We made a collective decision to proceed to the Madrid system in 2015 with the collaboration of our exporters. NIPO has already commenced upgrading their IP system so that NIPO systems are Madrid compatible. A complete restructuring program of NIPO is underway," said Minister Bathiudeen.


Sri Lanka's Madrid Protocol accession will open the doors for the country's brands to register their trademarks in a single filing across multiple jurisdictions, activated at the same time, and affords strong IP protection for Lankan brands at a global level for the first time.

The IPACSL was appointed on 17 August and shall end its term on 17 August 2020.