Says to learn lesson and emerge stronger from a crisis
Outlines five tourism crisis truths and how countries should be aware of preparation to respond
Insists adverse post-crisis travel advisories must be geo-specific, time-bound and issued in consultation with the affected govt.
UNWTO Special Advisor to the Secretary General and CNN International Consultant Anita Mendiratta, who was speaking in Colombo yesterday, pointed out that what was needed to completely emerge from a crisis "stronger, faster and smarter" was not strategy but humanity.

"What happened in Sri Lanka is what happened to you. It's not who you are. When crisis hits, we are all humans and we are hurt. In that moment we all come together. It is not strategy, but it's humanity that helps make recovery stronger, faster and smarter," she said, delivering the keynote address at the third edition of the Cinnamon Future of Tourism titled 'Challenges and growth in the face of crisis' yesterday.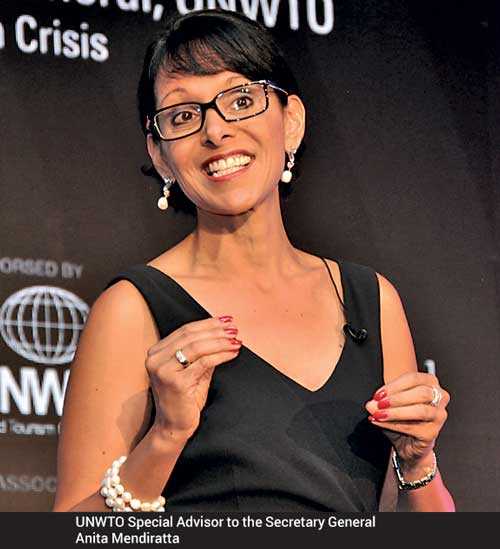 She highlighted the fact that between 1 January and 21 April, international flight bookings to Sri Lanka were up 3% compared to 2018, with a record number of tourists expected this year. However, after the Easter Sunday terror attacks, arrivals plunged 70% from 166,975 in April to 37,800 in May. Nevertheless, she said that the momentum of tourist arrivals and bookings in Sri Lanka had begun to stabilise from June onwards. She also mentioned that between 2011 and 2017, there were on average 60 terrorist attacks each year, while during the past 30 years alone, there have been an average of 32.4 natural disasters a year.

"The reality is that every crisis is unique. Every crisis; whether it is an economic crisis, terrorism or a natural disaster, is heart-breaking. No matter how developed we may be, we are never ever ready for that moment. It is really impossible to avoid risk but we can become stronger in resisting a crisis with preparation," she said.

Mendiratta said it was important to learn a lesson to emerge stronger from a crisis situation.

She outlined five tourism crisis truths, noting that it was vital that everyone was aware of their role within this recovery period and that there be key actions in place at every stage.

"There are five tourism crisis truths - length of recovery varies, familiarity of destination hit and traveller experience, impact recovery, countries differ in response or recovery based on experience, the resilience of the travel sector is a result of the resilience of travellers and beware of quick fixes," she stressed.

Cautioning that a negative perception of the destination may linger for years and hamper future growth, particularly with regard to natural disasters, Mendiratta asserted that it was important to work with partners on the current state of the people and infrastructure and to prioritise in order to remobilise.

"When crisis hits people respond unexpectedly. Be forgiving to yourself and others. Securing safety, security and calm is paramount. Be human and forgive them for their reaction. Work with partners, analyse and then repair. Proactive outreach on media to control sensationalisation of headlines. Facts first. Reach out to the travel trade for support. Share continuous messages on the progress of recovery," she added.

Mendiratta also insisted that adverse travel advisories following a crisis must be geo-specific, time-bound and made in consultation with the Government of the country hit by the crisis, asserting that the travel advisories were unfair to the affected destination's image and tourist arrivals.

She called on the world to show solidarity with Sri Lanka, its people and the tourism industry.

"We are all humans; grab on to humanity in a crisis. The story can never end at the crisis. Don't give up because you're not alone, you matter," Mendiratta emphasised.