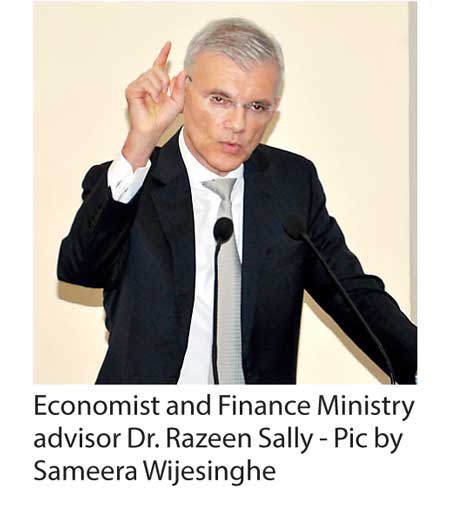 Says economic returns not reaching masses main reason for lacklustre LG results
Warns Govt. continuing to drift would open the door to a return of former times
Faults appointments of Mahendran and Ravi K at start but praises their replacements
Discloses decisions taken at high-profile strategy retreat; independent debt agency, five-year fiscal framework beyond IMF program, new Budget formulation process
Priority list for Budget 2018 proposals, red tape reduction, removal of tariffs
Outlines six-year plan to make SL freest trading nation in South Asia
Insists political will essential for plan implementation, winning next polls
By Uditha Jayasinghe

Respected economist Dr. Razeen Sally stayed true to his usual straight-talking style yesterday, criticising the main political parties for misjudged appointments and slow reform implementation as root causes for the dismal Local Government results, warning that unless the current drifting of the Government was reversed, little would stand in the way of the previous administration's return.

Delivering a talk titled 'Economic takeoff and young professionals', at a forum organised by the UNP Young Professionals Organisation Colombo Chapter, Dr. Sally, who is also an advisor to the Finance Minister and the head of the Institute of Policy Studies, pulled no punches in his assessment of the Government and the United National Party (UNP) in particular.

"The window of opportunity for productive reform in Sri Lanka has almost closed, if it hasn't closed already, and that opportunity has been right royally squandered over the last three years. But if there is an opportunity remaining then the Government led by the Prime Minister and the Finance Minister really have to bite the bullet and go ahead with serious market reform. However, there is a question mark whether the politics of Sri Lanka will allow that but to me the economic and political logic are one and the same," he told the gathering.
In the past three years the Government did manage to achieve some positive, Dr. Sally noted, pointing out the resetting of foreign relations, restoration of civil liberties that in some cases were buttressed by constitutional changes, improved media freedom and better minority relations. But he pointed out the Government could not deliver on the hopes of economic reforms that should have filtered down to make the lives of ordinary citizens better. In addition, Sri Lanka has also drifted back to China as the Government failed to attract "big ticket" Foreign Direct Investment (FDI).

"The only hope for a future UNP-led government is serious economic reform that delivers benefits to ordinary Sri Lankans outside the 'charmed circles' of central Colombo within the next two years because if that doesn't happen then we are back to a Rajapaksa restoration," Dr. Sally warned, harking back to a speech he made about one and a half years ago where he outlined the dangers of a drifting government leading to a political relapse that would see a shifting of power to former President Mahinda Rajapaksa.

If the current political drift continues it would not matter much to the Colombo elite but it would matter to average Sri Lankans who would be "condemned to a future of undereducated, under-skilled, underpaid and underdeveloped lives."

Nonetheless, Dr. Sally was optimistic of recent changes and steps taken by the UNP and emphasised the importance of following through with them to give Sri Lanka a fighting chance at reaching higher levels of growth.

"Economic management and policy implementation have improved a little bit in the past year. Before these election results I thought even though we were still far away from takeoff we were still inching towards it. Of all the complex reasons for the governing party taking such a beating at these elections lie two disastrous appointments, that of the (former) Central Bank Governor and the (former) Finance Minister. I'm of course speaking of Arjuna Mahendran and Ravi Karunanayake. Those were terrible appointments and they were two appointments that lasted past their sell-by dates."

"The good news is we have belatedly ended up with the right Central Bank Governor and the right Minister of Finance, so better late than never. These changes have begun to make a difference. So monetary policy has begun to go on the right track, whereas before it was populist, incompetent and followed the excesses of fiscal policy, money printing and artificially low interest rates. Now the emphasis is on price stability, cleaner financial regulation, restoring institutional independence and there is monetary law in the works. All of that is good news."

However, micro reforms are yet to be implemented, especially to remove red tape and allow small and micro enterprises to function more effectively as well as liberalising trade. A starting point to this progressive policymaking, Dr. Sally insisted, was made in the latest Budget, even though it was mixed up with pet projects, making it a "dog's breakfast" nonetheless committed to liberalise certain sectors, reduce 1,300 para-tariffs as well as institute sweeping legal reforms on archaic legislation.

"As of November what we had was the beginnings of serious market reform in Sri Lanka and immediately foreign investors began to get very interested. The Prime Minister asked me to organise an economic strategy retreat and we met in December in Kalutara. We went through five sessions and the idea was to come up with key propriety actions for 2018 and 2019. We agreed on certain things and circulated a paper. I mention this because there is something to go by if the political will is there."

Among the key decisions made was to establish an independent debt agency staffed with competent professionals to replace the nest of different agencies handling debt currently. It was also decided that the Finance Ministry would announce a medium-term fiscal framework, which would be five years and going beyond the IMF program.

On budget implementation this year, the Minister would initiate a different budget process and reverse the existing ad hoc process by establishing a draft budget and demanding proposals meet that criteria as well as provide a cost-benefit analysis resulting in a clearer and simpler budget which would give better taxation and other targets.

Of the 180-odd Budget proposals in the 2018 version, the Finance Ministry had decided to come up with a priority list which would see fast-tracked implementation. Measures to improve the business climate and cut red tape would be proposed by the relevant departments themselves. Larger trade policy was also in the works, Dr. Sally disclosed.

"If we can take action on these fronts it would make an almost immediate impact on the lives of Sri Lankans before the next general elections."

Going beyond these immediate goals, the Prime Minister, top ministers, think tanks and private sector representatives at the retreat had decided on a three-year timetable to completely remove all 6,000 plus para tariffs, with most to be removed this year.

In another three years officials discussed to reduce all tariffs to three levels of 0%, 5% or 10% on all goods. This was essentially a six-year timetable for Sri Lanka to become the freest trading nation in South Asia, Dr. Sally observed, with obstacles for trade and investment listed and measures taken to reduce them.