Calls on President to appoint P'ment backed Govt. by Friday to avert debt repayment crisis
Argues Sirisena should be focused on economy and not SC decision
Says President cannot authorise payments as P'ment has authority over public finance and not Executive
Contends regardless of SC decision gap in authorising payments from Consolidated Fund
By Uditha Jayasinghe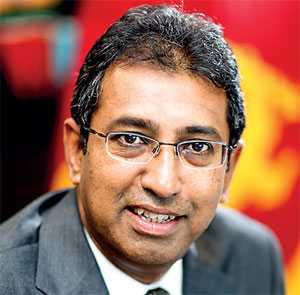 MP Dr. Harsha de Silva
Sri Lanka's economy is currently on "life support" MP Dr. Harsha de Silva said yesterday calling on President Maithripala Sirisena to resolve the opaque situation that has arisen over public finance by appointing a government with Parliament's support by Friday or risk being unable to finance over $ 1 billion in debt repayments due in the first two weeks of January. Dr. de Silva, speaking to reporters at Temple Trees, insisted the Constitution is very clear on the point that the Executive President does not have control over public finance and that responsibility lies with Parliament. Reading from the Constitution, he argued that the issue President Sirisena should be concerned with is not whether or not Parliament is dissolved, following a Supreme Court order expected this week, but whether the Government can legally access funds needed for the payment of a $ 1 billion international sovereign bond on 14 January and repayment of a large tranche of treasury bills on 3 January.

"The Constitution very clearly states that if Parliament is not dissolved, a Finance Minister must authorise the use of money in the Consolidated Fund. Since the no-confidence motion in Parliament and the interim order given by the Court of Appeal, currently there is no Cabinet and therefore no Finance Minister. Conversely, if Parliament is dissolved then the Executive can only access funds for three months from the date of a new parliament being convened. This means that from 1 January till a new parliament meets, the President does not have access to the Consolidated Fund," he said.

Dr. de Silva argued this gap could only be avoided if the President moves to establish a government which has the backing of Parliament by Friday.

He contended that even though Sri Lanka's Central Bank has over $ 7 billion in reserves and has outlined plans to meet debt repayments in January, a Finance Minister is still needed to sign off on the payments.

"Some people might be thinking that we don't have to worry because we have sufficient reserves but it is not that simple. The President still needs a Finance Minister to approve of funds to be withdrawn from the Consolidated Account. Reserves do not belong to the Government, reserves are under the authority of the Central Bank. It is possible that we may need additional funds from international financial markets and those are in London, New York and Tokyo which will be closed for the festive season. Therefore we need at least two weeks to reach out and mobilise additional funds in case they are necessary," he said.

Dr. de Silva also heavily criticised President Sirisena for triggering a constitutional deadlock by appointing MP Mahinda Rajapaksa as Prime Minister on 26 October and subsequently dissolving Parliament by gazette. He noted the ensuing political turmoil resulted in Sri Lanka having its sovereign rating downgraded and insisted that this would make it harder for the country to raise funding needed for debt repayments in 2019. A decline in tourist numbers, a depreciating currency, no Budget and reduced investor confidence were also highlighted by Dr. de Silva.

"President Sirisena's actions have put Sri Lanka's economy on life support. Now the danger is that the organs may start shutting down. If that happens then the patient will die. Risking defaulting of debt repayments is a serious situation and the Head of State should pay attention to this," he stated.

According to Fitch Ratings, Sri Lanka has to repay an estimated $ 20 billion from 2019-2022. Given these volumes, it is likely that the Central Bank would have to go to international financial markets to raise capital. Central Bank Governor Dr. Indrajit Coomaraswamy last month outlined a range of measures including scaling up a loan from China Development Bank (CDB) using funds leftover from the Hambantota port venture and currency swaps with Oman and Qatar to meet the $ 1 billion bond repayment due in mid-January. A second repayment of $ 600 million is also due in April and the Central Bank has been preparing for these two major payments since October. The Asset and Liability Management Act that was passed by Parliament on 26 October, just hours before President Sirisena swore in MP Mahinda Rajapaksa, empowers the Central Bank to raise up to Rs. 310 billion in funds for debt financing.

State and major private banks are also expected to raise funds for debt repayment but the tenure of these loans are expected to be tighter and interest rates higher after the credit rating downgrade by all three international rating agencies.