EDB Chief says apparel sector to be impacted most
Special discussions to be held this week with top officials
---
By Charumini de Silva
---
The Export Development Board (EDB) yesterday expressed concerns over the resolution adopted by the European Union (EU) Parliament calling on the EU Commission to consider the temporary withdrawal of Sri Lanka's Generalised Scheme of Preferences Plus (GSP+) status and the benefits that come with it.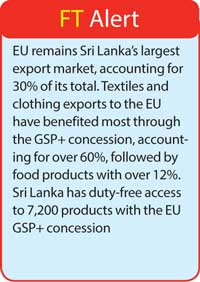 The resolution on Sri Lanka was adopted noting the Government's persistent failure to adopt and enact human rights reforms and repeal the draconian Prevention of Terrorism Act (PTA). Up to 628 votes were cast in favour of, 15 against, and there were 40 abstentions.

"We are concerned with the EU Parliament's resolution," EDB Chairman Suresh de Mel told the Daily FT.

The resolution calls on the EU Commission to "carefully assess whether there is sufficient reason, as a last resort, to initiate a procedure for the temporary withdrawal of Sri Lanka's GSP+ status and to report to Parliament on this matter as soon as possible".

The resolution recalled that the GSP+ scheme offers the incentive of better access to the EU market for the country's exporters, in return for further progress in fully implementing those conventions.

EDB Chief said the apparel industry, which contributes close to 50% of the total exports and generates over $ 5 billion in foreign exchange to the economy, will be impacted most if the EU Commission decides to withdraw Sri Lanka's GSP+ status and the accompanying benefits.

Textiles and clothing exports to the EU have benefited most through the GSP+ concession, accounting for over 60%, followed by food products with over 12%. Sri Lanka has duty-free access to 7,200 products with the EU GSP+ concession.

"We will discuss the matter this week with top officials," de Mel said.

Last year Sri Lanka's merchandise exports amounted to $ 10 billion, and the Government has set a target of $ 12 billion in 2021, of which $ 3.6 billion was achieved by April.

The EU remains Sri Lanka's largest export market, accounting for 30% of the total, while the US is the largest single export market, accounting for 27% of the total merchandise exports last year. Nearly 60% of Sri Lankan exports benefit from some form of preferential access due to EU GSP+ and US GSP schemes.

In January 2020, the EU delegation in Sri Lanka reassured that it will continue the GSP+ concessions to Sri Lanka till 2023 while noting that there will be 'no changes' in the rigorous monitoring of the country's progress in implementing the conventions.

Sri Lanka regained the EU GSP+ privileges for Sri Lankan exports in May 2017. The trade preferences under GSP+ consists of the full removal of duties on 66% of tariff lines, covering a wide array of products, including textiles and fisheries. The GSP+ scheme is conditional on Sri Lanka advancing human and labour rights and working towards sustainable development.

Since the resumption of GSP+ concessions in 2017, the value of Sri Lanka's total exports to the EU market has increased year on year.