Concerned over increased infection rates, EDB to work closely with Govt.
Says measures already taken to ensure exports can move uninterrupted
Despite uncertainty, EDB Chief express confidence in $ 12 b export target
Says agriculture, spices and essential oils, services and logistics have scope for growth
---
By Charumini de Silva
---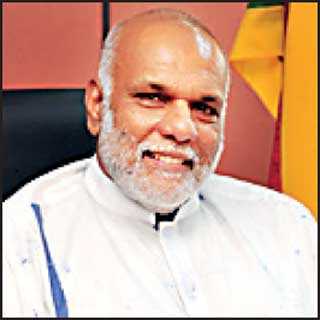 EDB Chairman Suresh de Mel
---
The Export Development Board (EDB) yesterday urged the private sector to be better geared to face any possible challenge with the recent escalation of COVID-19 in the country.
"We are concerned about the recent escalation of COVID-19. The situation is quite uncertain. Looking back at the experiences we had to undergo, it is critical for our exporters to plan and prepare for any challenge that may come our way," EDB Chairman Suresh de Mel told the Daily FT.

Given the rising number of COVID-19 patients detected in the country, concerns have been raised about increased restrictions on movement.

However, de Mel assured that proactive measures had already been taken to ensure that exports could move uninterrupted.

"We are working closely with the Government, the COVID-19 Task Force and all related institutions to ensure that export industries will have access to all facilities to continue production operations without any hindrance. The Police and Army have already been informed to provide curfew passes in the case of an emergency," the EDB Chief added.

Last year, when movement restrictions were imposed with a nationwide lockdown as the first wave of the pandemic hit, followed by a partial lockdown in the face of the second wave, production was affected because workers could not easily report to work. Delays in shipments and the cancellation of orders also resulted from these regulations.

"We are hoping that there will be no hiccoughs for the exporters like last year," he said.

Although the Government has no plans to enforce a lockdown yet, the EDB Chief said the export community would comply with health and safety regulations and restrictions imposed by the authorities.

He said the EDB had facilitated all raw material imports for re-export purposes and simplified certification procedures required for medical equipment and Personal Protective Equipment (PPE) exports.

He also noted that the EDB last year introduced a help desk to facilitate export companies in continuing their production operations. The required details can be obtained via the EDB Help Desk telephone on 0112300710 or via email ([email protected]) or through its official website (www.srilankabusiness.com).

Despite the looming uncertainty, the EDB Chief expressed confidence that the country could achieve the $ 12 billion export target set for the year and that there was scope for growth in sectors such as agriculture, spices and essential oils, services and logistics.

"Food security is a major concern with the ongoing COVID-19 pandemic. There is clearly a significant demand for clean or organic food. With the import ban imposed, there is huge demand for Sri Lanka's spices and essential oils as it is single-origin spices. These are waves we need to catch and ride," de Mel pointed out.