Total confirmed cases rise to 11,335, with 6,065 receiving treatment
Select areas in Kegalle and Kurunegala districts declared isolated areas
Quarantine for persons who left Western Province unnecessary: Chief Epidemiologist
Grocery stores and pharmacies no longer permitted to operate twice a week
Permits to be issued to implement delivery service instead
---
By Shailendree Wickrama Adittiya
---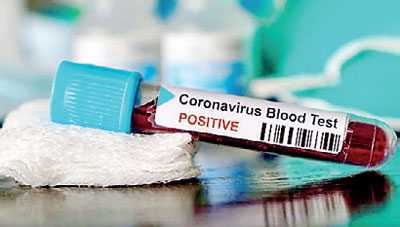 The dual cluster that emerged from the garment manufacturing facility in Minuwangoda and the Peliyagoda Fish Market yesterday rose to 7,857, with 275 new cases.

In addition the government late last night isolated selected areas in the Kegalle and Kurunegala districts.

As such the Hemmathagama, Mawanella and Bulathkohupitiya police divisions and the Galigamuwa Pradeshiya Sabha in the Kegalle district, and the Giriulla police division in the Kurunegala district, have been declared as isolated areas.Of yesterday's cases, 232 were identified from contacts of the Peliyagoda cluster and 43 were identified from quarantine cases.

This brings the total number of confirmed COVID-19 cases in the island to 11,335. This includes 1,465 Sri Lankan returnees from abroad, 950 Navy personnel and their contacts, 651 persons connected to the Kandakadu cluster, and 100 foreigners.

According to the Epidemiology Unit, 6,065 persons are currently undergoing treatment at 46 treatment centres in the island, including 667 persons at the Punani Treatment Centre, 449 persons at the Gallela Treatment Centre, and 426 persons at the Neville Fernando Teaching Hospital.

Hospitals are also monitoring 389 persons suspected of having COVID-19.

The Epidemiology Unit added that the number of COVID-19 recoveries in the island increased to 5,249, with 344 persons leaving treatment centres yesterday. This includes 88 persons from the Neville Fernando Teaching Hospital, 59 persons from Laggala Pallegama, and 42 persons from the Lunawa District Hospital.

The increase in recoveries comes in the wake of a decision taken by authorities to discharge asymptomatic persons after 10 days of hospitalisation without them being subjected to a PCR test. Chief Epidemiologist Dr. Sudath Samaraweera explained that the decision was based on studies which showed asymptomatic individuals cannot spread the virus after 10 to 14 days. This, he added, would enable the health sector to better manage patients and treatment centres as well as PCR testing.

Dr. Samaraweera, in a letter addressed to the Department of Government Information, stated that the death reported as the 22nd COVID-19 death in the country was no longer considered a COVID-19 death.

The suicide of a 27-year-old resident of Panadura had earlier been added to the total COVID-19 death toll yesterday, as his autopsy revealed he had contracted the virus. According to the Department of Government Information, the individual passed away during admission to the Panadura Base Hospital on 31 October.

"This is not a death that occurred directly due to COVID-19, but because the individual was COVID-19 positive, we informed the public that such a death had occurred," he said.

The country's COVID-19 death toll thus remains at 21.

The Chief Epidemiologist also said there was no need for all persons who left the Western Province to undergo quarantine. "The virus has spread widely in the Western Province, especially in the Gampaha District and the Colombo Municipal Council in the Colombo District. Despite this, we do not at this point see a need for everyone who enters or exits these areas to quarantine when they travel to another district," he explained.

Dr. Samaraweera added that what was instead required was for contacts of patients to be identified and directed to quarantine, with persons exposed to a patient undergoing self-quarantine themselves.

Those who leave the Western Province to return home in other areas should take it upon themselves to limit their travel and movements, he added.

Meanwhile, the National Operations Centre for Prevention of COVID-19 Outbreak (NOCPCO) stated that 228 persons left quarantine centres yesterday, having completed the process. A total of 61,955 persons have left centres to date.

With three arrivals from Qatar yesterday, a total of 4,039 persons are currently undergoing quarantine at 45 centres.

NOCPCO Head Lt. Gen. Shavendra Silva yesterday said the decision to extend quarantine curfew in the Western Province was due to the high number of patients identified in the Colombo, Gampaha, and Kalutara Districts. According to Silva, of the 397 cases identified on Sunday, 179 were from the Gampaha District, 93 were from the Colombo District, and 33 were from the Kalutara District. A few cases were also identified in Eheliyagoda, Kurunegala, and Kuliyapitiya.

However, the authorities believe the spread of COVID-19 can be contained within the coming week, which is why the Western Province lockdown will be enforced for 10 days. Despite calls for a nation-wide lockdown, the NOCPCO Head explained that this would cause difficulties for several people, especially daily wage earners.

He also asked that all persons who have been subjected to a PCR test undergo self-isolation until they receive their results. Silva explained that various categories of persons, for instance those who have recovered, those in quarantine centres, those undergoing self-quarantine, contacts of patients, and staff of apparel and export factories, have been allocated a certain percentage of PCR testing to better manage resources.

According to the Health Promotion Bureau, 524,448 PCR tests have been carried out to date, including 11,713 tests on Sunday. Health authorities added that there was currently no backlog of PCR reports.

Lt. Gen. Shavendra Silva added that a mechanism is in place to provide persons in curfew-imposed areas with essential items that they may require.

Explaining this mechanism further was Police Spokesperson DIG Ajith Rohana, who said the circular that permitted grocery stores and pharmacies to operate two days of the week in curfew-imposed areas had been terminated.

However, Divisional Secretariats have been directed to issue curfew permits for delivery services, with supermarkets and grocery stores permitted to operate 15 delivery vehicles per store, and food outlets permitted to operate 10 delivery vehicles per store. Pharmacies will also be permitted to operate their own delivery services.

"The Police Headquarters has amended the circular that was issued [on 31 October] in respect of employees who have been permitted to use their official ID card as a curfew permit. Initially, according to the circular, there were 84 institutions, but according to the amended circular, it has been extended to 102 institutions," DIG Ajith Rohana said.

He added that a special program has also been implemented to ensure persons undergoing home quarantine do not leave their places of residence. The support of Grama Niladhari officers and local government authorities will be used to enhance the work of health authorities, police, and armed forces in this regard.

In terms of adherence to safety guidelines like wearing face masks and maintaining social distancing, DIG Ajith Rohana said 30 suspects were arrested during the three-day period starting 30 October. Seventy arrests have been made to date.