Renowned Lankan-born economist Dr. Howard Nicholas, Senior Trainer at ETIS Lanka, will on Thursday share insights on current and future global and Sri Lankan economies at a seminar at the Lakshman Kadirgamar Institute – Lighthouse Auditorium at 3.30 p.m.

It will cover various aspects of the global and local economies, focusing on key macroeconomic variables that are of fundamental importance for business and investment decision-making. Following the presentation made by Dr. Nicholas, there will be a Q&A session that will allow participants to delve deeper into topics covered in the presentation.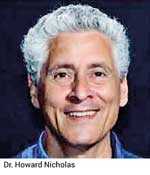 Organised by ETIS Lanka, the event is supported by the Daily FT, George Steuart, and HardTalk PR.

Dr. Nicholas is presently an Associate Professor at the Institute of Social Studies (ISS), Erasmus University of Rotterdam, in the Netherlands.

He has had a long and distinguished teaching career, teaching business economics and financial markets in academic institutions in various countries – including most recently China and Vietnam. He has won the best-teacher award at the ISS for the last 18 years – every year since the award was first bestowed.

Dr. Nicholas is regularly invited to give lectures on the global economy and is known by those who have attended his lectures for his early warnings on the Asian crisis (1996-8), the global crises of 2001-3 and 2007-9, and the little known crisis of the Chinese economy in 2015.

Dr. Nicholas has also had a considerable policy experience in his country of birth, Sri Lanka, where he helped establish a think-tank for the government in 1989 – the Institute of Policy Studies. He has also worked closely with the Ministries of Police Planning and Finance in Sri Lanka, executing a number of different projects.

ETIS Lanka is borne out of the recognition that the dividing line between work and education is becoming increasingly blurred, and that universities are less able to cater to the practical requirements of modern business decision-makers for a constant development of their analytical toolboxes and information repositories. It has been set up in response to the specific need of business-decision makers for a practical, real world understanding (and monitoring) of the major changes taking place in the global and Sri Lankan economies.

To aid this understanding, the company intends to provide regular half and full-day workshops on the global and Sri Lankan economies that are supported by monthly and quarterly economic monitors (monthly for the global economy and quarterly for the Sri Lankan economy).

For those seeking a deeper understanding of the material covered in the workshops and reports, ETIS Lanka offers a series of short courses – ranging from 12 hours to 24 hours. The topics currently include basic economics, money and financial markets, and business cycles; with more topics to be added over time. The workshops, reports and short courses will draw on a regularly updated database relating to the global and Sri Lankan economies.