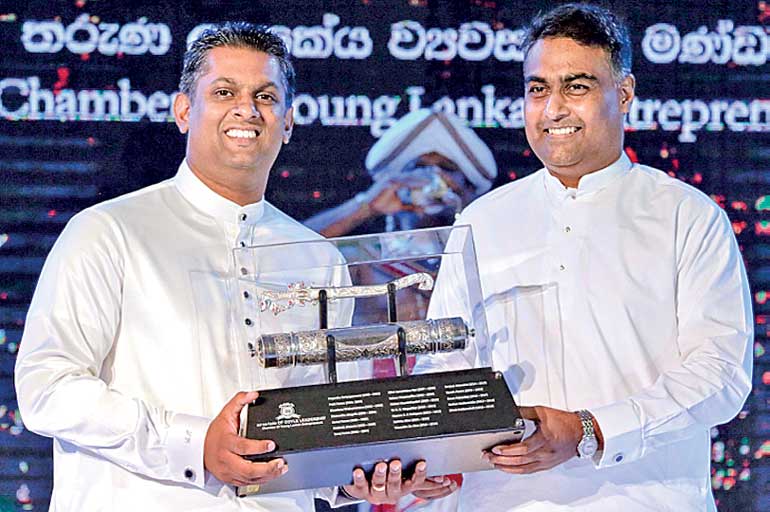 Dinuk Hettiarachchi (left) with Kushan Kodituwakku
The Chamber of Young Lankan Entrepreneurs (COYLE) announced the appointment of Dinuk Hettiarachchi as its new Chairman, following its 19th anniversary celebrations held on Saturday at the Ballroom of Shangri-La Hotel, Colombo.

Hettiarachchi is the Managing Partner of Nihal Hettiarachchi & Co., a leading auditing and accounting firm in Sri Lanka. He is also the Chairman of 3DH International Group of Companies with a diversified portfolio comprising of oil and gas, power and energy, aviation, real estate, information technology, advertising and marketing, insurance brokers, international trading, travel and tourism and BPO.He is ably assisted by COYLE Senior Vice Chairman Aminda Rodrigo and Vice Chairman Dinesh Jayawardena.

Speaking of his appointment, Hettiarachchi commented: "I'm deeply humbled yet honoured to receive this symbol of leadership and begin a journey that would create numerous success stories and new business opportunities for my fellow entrepreneurs at COYLE. I am even more proud to be given the opportunity to lead this band of highly-dynamic, skilled and engaged members of our business fraternity, Committee members and Secretariat. I am determined to build on the legacy of the last 18 years and take COYLE forward into the future."

He further elaborated: "My concentrated efforts will hinge on three specific strategic points that will help the chamber set the national standard for fostering economic prosperity. These include: Develop a harmonious environment to generate corporate endeavours and inspire new concepts and proposals that could merge trade and industry between private and Government sectors; create opportunities for COYLE members through various international events organised in Sri Lanka and also by representing Sri Lanka globally; optimising and diversifying Chamber activities to maximise member experience, facilitate greater member-to-member connections and attract new members and ensure that the Chamber achieves the highest standard of operational excellence, enhancing Government, community and business harmony in decision-making processes."

"We are pleased to have a strong and active leader taking over the reins; and I'm sure that with a group of energetic members who are bound together by a core set of operating values, will dedicate themselves to enhance member value, involvement, calibre and long-term plan and vision for COYLE," stated outgoing Chairman Kushan Kodituwakku.

COYLE is a leading business chamber providing thought leadership to drive community growth and economic prosperity. With over 120 members comprising of business owners and entrepreneurs, the Chamber has an extensive national and international business network, offering a broad spectrum of activities and services.

Chamber members collaborate with Government officials, policy makers and community organisations to support the community and each other with the mission of building harmony within businesses and communities through its motto, 'Recognition through Excellence'.