By Nisthar Cassim
---
Inspired by pioneering success for the past 15 years, digital products exporter 99x Technology has set sights on its next growth phase via an overseas acquisition and setting up operations in Europe.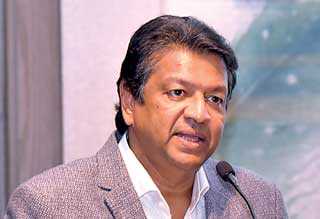 99x Co-Founder and CEO Mano Sekaram
---
"We have grown organically so far and our next step is to acquire a global company and set up operations in Europe," 99X Technology Co-founder and CEO and IT industry leader Mano Sekaram told journalists yesterday.
Since its establishment in 2004, the Company, which unveiled its new look as 99X yesterday, has built over 150 digital products and platforms for clients in Scandinavian countries Norway, Finland and Sweden.

Employing 350, the 80% Sri Lankan-owned 99X has seen its revenue enjoy a 36% Compound Annual Growth Rate (CAGR) in the past five years.

In 2018, the growth was 40% and last year the pace accelerated to 48% with profitability improving by 30%.

Sekaram said, as per independent analysts 99X is worth between $ 30 and 40 million and very profitable and debt free. The business and value of the company which co-creates well-engineered, innovative digital products with leading Independent Software Vendors (ISVs) have doubled in the past four years and there is scope for more growth in the niche market its serves.

The stellar success so far is despite not having a sales team in Scandinavia but from satisfied customer referrals. Sekaram believes acquiring an equity stake of around 50% in a European or global company will help accelerate further growth. "We are keen to expand our global footprint through the creation of impactful digital products together our clients," he added.

He also said that the Government must encourage successful mid-size companies in the IT industry when it comes to expanding to or investing overseas.

To meet the growing demand, 99X has increased its team by 200 in the past two years and this year despite COVID-19 challenges has on-boarded 50 more. Among products it sells to digital companies in Scandinavia include full stack development meaning from front end to the back end, cloud, web/JS, serverless, mobile applications, cloud migration, user experience, machine intelligence, blockchain and product conceptualisation, lean start up, market research. 99X has over 50 international and local awards for excellence in exports, quality, governance, and employee empowerment.