Rajapaksa insists not stopping his quest to serve the country because of criticism
Claims more time invested in resolving issues created by previous administration, while ensuring development initiatives are uninterrupted
Reiterates commitment to protect environment, says reports of destruction falsehoods by Opposition
---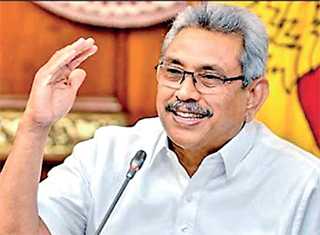 President Gotabaya Rajapaksa
---
President Gotabaya Rajapaksa this week emphasised development is the only way to transform people's lives for the better, insisting he would not abandon his quest to serve the country because of criticism, the President's Media Division (PMD) said in a statement.

"Achieving a developed nation required a policy framework and the procedure has now been laid down by the Government. As the President, I travel village by village to identify the real issues that ail the public and resolve them," Rajapaksa said at a discussion held with the representatives of the associations affiliated to the Sri Lanka Podujana Peramuna (SLPP) at Nugegoda Wetland Park (Weli Park).

The President stressed that he would not abandon his quest to serve his people and the country despite the heavy criticism and obstacles, assuring that he would not allow misleading falsehoods to be spread among the general public.

He said within a short time span of 16 months into power, the Government has ushered in a revolutionising change in its national policies. "The Government is dedicated to consolidated sovereignty, protecting our native culture, national interests, our way of life and national security," he added.

The President also pointed out that the incumbent Government mostly had to face and rectify the old issues left by the former Government and not issues created under the present administration.

"The 19th Amendment by the previous Government had to be addressed with the 20th Amendment. Neglecting national security led to the Easter Sunday attacks, but now it's the current Government that has to answer regarding the Commission they themselves had appointed to look into this matter. Both agreements relating to MCC and leasing out East Container Terminal (ECT) were started during the previous administration. As a responsible Government we had to intervene and resolve issues created by the previous Government," he said.

The President claimed that those who were part of the previous administration are now protesting against the Government, raising issues that they themselves had created. "A lot of time was invested in finding solutions to the problems they created, while implementing policies and strategies of the Government at the same time to ensure that the development initiatives are uninterrupted," he added.

Rajapaksa also reiterated that the Government has not allowed anyone to cut down trees or destroy the environment. "The Opposition has been spreading falsehoods over an alleged massive deforestation taking place in the country," he said.

The President stated that he instructed the District Secretaries on Wednesday (24) to take immediate action in the event of deforestation at the district level.

Central Province Governor Lalith U. Gamage, North Central Province Governor Maheepala Herath, Ministers Prof. G.L. Peiris, S.M. Chandrasena, Gamini Lokuge, SLPP National Organiser Basil Rajapaksa, State Ministers D.V. Chanaka, Kanaka Herath, Piyal Nishantha, MPs Lalith Ellawala, Sagara Kariyawasam, Udayana Kirindigoda, Jayantha Ketagoda and several others were also present at the occasion.