Says EC determined to hold poll on 5 August, but warns lack of legal teeth to implement health guidelines major impediment
Renews appeal to health authorities to issue Gazette promptly
Says PHIs unable to deal with guideline violators during campaigning unless Gazette issued
---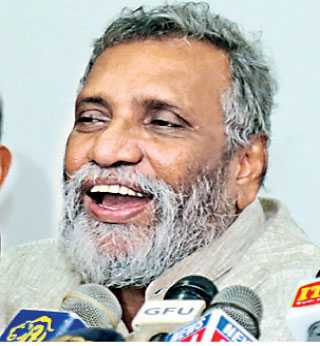 Election Commission Chairman Mahinda Deshapriya
---
Election Commission Chairman Mahinda Deshapriya said yesterday that the delay by health authorities in issuing the Gazette containing the COVID-19 health guidelines relating to the Parliamentary Election is a major impediment to holding the poll on 5 August.

"We are determined to hold the election on 5 August. None of us want to stop the election, but if we are to hold the election on this date and ensure that the election doesn't become the cause for a resurgence of COVID-19, these guidelines must be gazetted," Deshapriya said.

He said the EC, which met yesterday, had decided to renew its appeal to the health authorities to expedite the issuing of the relevant Gazette.

Deshapriya said that an incident that took place during the ongoing postal voting underscores the urgency for the guidelines to be made legally binding.

"In an agriculture sector office in the North Western Province (NWP), a group of officials had completely ignored the health guidelines, and not maintained social distancing during postal voting, despite requests to do so. Unfortunately, our people only follow rules if there is a punishment for breaking them, but rarely adopt good habits voluntary," he said.

Deshapriya said if public officials are behaving in this manner, it is unrealistic to expect other voters to act more cautiously.

He said the EC members had met with Public Health inspectors (PHIs) yesterday as well, and they too were keen to assist in election work, but were reluctant due to the delay in issuing the Gazette.

"The PHIs have faced practical problems without the regulations in place. When they go to check if health guidelines are being adhered to during campaigning, some are challenged by the organisers who ask what legal authority they have to ask such questions," Deshapriya said.

He added that the EC is considering having mobile polling booths for those who are undergoing self-quarantine. "We will not allow those who are in quarantine to come to the regular polling booths, as we want to ensure that Election Day does not become a day for the spread of COVID-19," he added.

The EC will meet again on 21 July to review the situation.