JVP slams Govt. coalition parties for attempting to take credit for ECT
Sees it as attempt to mislead public
Says trade unions and others worked tirelessly to protect asset
Points out plans for WCT only unearthed due to ECT protests
---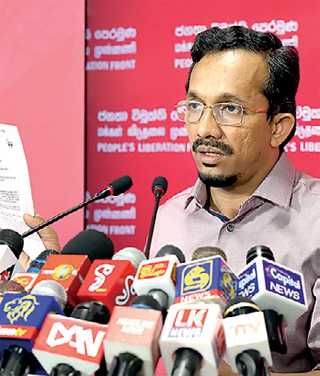 Sunil Handunetti
---
The Janatha Vimukthi Peramuna (JVP) yesterday slammed Government coalition parties, accusing them of attempting to mislead the public by claiming credit for keeping the East Container Terminal (ECT) development completely under the Sri Lanka Ports Authority (SLPA).

JVP Political Committee head Sunil Handunetti questioned what right 10 coalition parties of the Sri Lanka Podujana Peramuna (SLPP), including the National Freedom Front (NFF) led by Wimal Weerawansa, had to claim credit for the decision to remove India and Japan from the joint development of the ECT when it was trade unions, the public and other progressive stakeholders who had protested.

"The NFF is now praising the President for allowing the SLPA to develop the ECT. This is a massive attempt to mislead the public and change the true narrative of how a valuable asset of this country was saved. It was trade unions that protested this for months, they were the ones who went and met the President and Prime Minister, and they were the ones who staged protest marches. It was not any of these bankrupt politicians who have now come forward to take credit," he said at a press conference.

Handunetti questioned why there was a need for such prolonged protests if the President had simply decided to withdraw from the memorandum of understanding (MoU) signed with India and Japan. He also severely criticised the previous administration for entering the MoU and insisted that the JVP had been against the agreement from the start.

"If it was the Government's intent to develop the ECT, then why did they drag this issue for so long? Who did we really save the ECT from? Why did there need to be months and months of protests? This is simply a whitewashing attempt from fringe elements within the Government," he added.

The former Parliamentarian also stressed that it was due to efforts made on behalf of the ECT that plans for the West Container Terminal (WCT) was unearthed to the public. The Government has said that developing the proposed WCT with support from India and Japan is included in the President's election manifesto 'Vistas of Prosperity and Splendour'.

After several rounds of protests, the Cabinet, on Monday (1 February), gave approval for the ECT to be developed as a 100% SLPA-owned project. India and Japan are since reported to have expressed their disappointment to the Government but top officials have said they are confident the issue will not severely dent bilateral relations. On Wednesday, leaders of 10 coalition parties held a press conference to justify their stance on the terminal and back the Government's decision.